Office Market Sizzles In First Quarter
Mar 1, 2019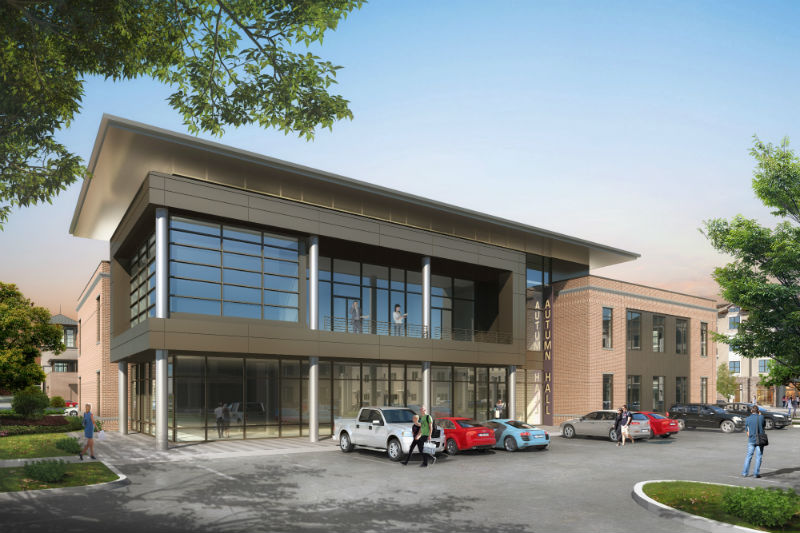 Story by: Cece Nunn, posted on  WilmingtonBiz.com
Autumn Hall, a mixed-use development on Eastwood Road, has 65,000 square feet of office space, and the community's development team wants to add more than 90,000 square feet of office space alone in the community's next phase.
The offices would be in a 13-acre section of Autumn Hall that will also include 28,000 square feet of retail or restaurant space and 180,000 square feet in residential units.
Developers have planned for three 30,000-square-feet office buildings and one 21,000-square-foot mixeduse space (which could include office, retail and restaurant) with a potential rooftop bar and ground level outdoor dining.
Autumn Hall's existing office space, which includes a building called Dungannon Village, houses Drift Coffee, Harrington Homes, residential real estate firm Coldwell Banker Sea Coast Advantage, Glen Meade Center for Women's Health and the Nunnelee Pediatric Clinic.
Construction on new buildings at Autumn Hall is expected to start this summer.
In the meantime, office space around Military Cutoff and Eastwood roads, often referred to by commercial real estate brokers as the Landfall/Mayfaire submarket, has dwindled significantly. While such space is also in demand in other parts of Wilmington, the Landfall/ Mayfaire submarket's inventory has been reduced even more recently by a number of leases and sales.
"Obviously it's a desirable part of town. It's a mile from Wrightsville Beach, so who wouldn't want to work a mile from Wrightsville Beach. There's been a lot of activity over there over the years including Mayfaire, Landfall and The Forum," said Mike Brown, of Autumn Hall and Wilmington-based commercial real estate firm Cape Fear Commercial. "But I think what is really driving the current demand is that the economy's doing very well, businesses are growing and they need more space to grow."
Investors have been recognizing the high demand in the area for the past several years. In 2017, Winston-Salem-based Taylor Development Group LLC bought Landfall Park North and Landfall Park South, buildings next to Port City Chop House near Wrightsville Beach, from North-South Entity LLC. Taylor Development paid $10.2 million. A U.S. Bankruptcy Court judge approved the sale in April 2017 as part of North-South Entity's Chapter 11 plan, according to court documents.
The combined size of the Landfall Park buildings is 56,000 square feet. It has turned out to be a lucrative investment in terms of its desirability, according to recent leases.
"With confidence and an expanding economy, local office users are committing to longer lease terms and larger spaces," said Paul Loukas, also of Cape Fear Commercial. "They are securing space not for their current needs, but what they believe they will grow into in several years."
He said the two recent leases at Landfall Park South, at 1979 Eastwood Road, are good examples.
A company called PolyQuest leased 16,847 square feet, and Murchison, Taylor & Gibson law firm leased 8,770 square feet. Loukas, Lindsey Hess and Vin Wells of Cape Fear Commercial represented the landlord, and Spruill Thompson, also of Cape Fear Commercial, represented the tenants in both transactions.
Keith Austin, broker with Wilmington- based Maus, Warwick, Matthews & Co., recently helped close the nearly $12 million sale of 68,000 square feet of office space at 1001 Military Cutoff Road to investors based in Greensboro.
In another example, an eight-year commercial real estate journey came to a close in February.
The Offices at Mayfaire VI sold to Raleigh investors, and the deed shows that the buyer, Ticon Properties, paid $11.7 million to previous owner The Offices at Mayfaire VI, an entity of Wilmington-based development firm SAMM Properties.
The 40,500-square-foot office building is leased in its entirety by banking software company nCino.
The Offices at Mayfaire developer Steve Anderson of SAMM Properties led the creation of 222,500 square feet of office space within the Mayfaire office park from 2011 to 2019, said Steve Hall, partner with Maus, Warwick, Matthews & Co., who has been working with Anderson recently as a listing agent on office properties.
Another illustration of the demand for office space is at Mayfaire Town Center, on undeveloped land on Town Center Drive that was once planned to become more retail space.
Hall has been working with Mayfaire Town Center owner CBL Properties to market the spot for a 9,500-square-foot, single-story office building.
The change from retail to office plans resulted from the "lack of inventory for office space in the Mayfaire market," Hall said.
View the original story on the Greater Wilmington Business Journal's website.