Aging Office Spaces Get Modern Makeovers
Jun 7, 2019
Story by: Cece Nunn, posted on  WilmingtonBiz.com
The office buildings of Landfall Park near Wrightsville Beach were in many ways a sign of what the future would bring for the Mayfaire/Landfall submarket.
Two decades later, demand is so high for office space in the area, some new buildings are being filled with tenants before construction starts.
Landfall Park North at 1985 Eastwood Road was completed in 1996, and Landfall Park South, 1979 Eastwood Road, in 1998. And while some aspects of the structures were ahead of their time, including the higher ceilings that are popular today, it was time for an update when a new owner came along.
The recent project is a case study, officials said, for transforming older office space in a market at a time when land is in short supply and construction costs are rising.
Taylor Development Group (TDG), based in Winston-Salem, bought the buildings for $10.2 million in 2017. And although they had planned to update the structures anyway, not long after their purchase, the firm's officials found out Landfall Park South's two main tenants would be leaving, one because of bankruptcy and the other because of market expansion.
"We had to shift gears and figure out a new leasing game plan: how we were going to retain our existing tenants and attract new tenants," said Chris Ramm of TDG.
Ramm said his company worked with Wilmington-based commercial real estate firm Cape Fear Commercial (CFC), which had represented the seller of the office buildings and continues to handle the leasing and management. The firms worked together on a strategy for renovating and re-leasing the property, starting with the outside while figuring out changes for the interiors.
Wrightsville Beach Landscaping handled that work, "turning around the exterior landscaping with a phased approach," Ramm said. "This let our existing tenants know that we were addressing the deferred maintenance and sent a message to prospective tenants we were investing in turning the property around."
In addition to CFC, they also worked with Big Sky Design on the inside, including the bathrooms, lobby areas, where the floors were replaced, new furniture was added, and the colors were lightened and modernized from a dark 1990s motif.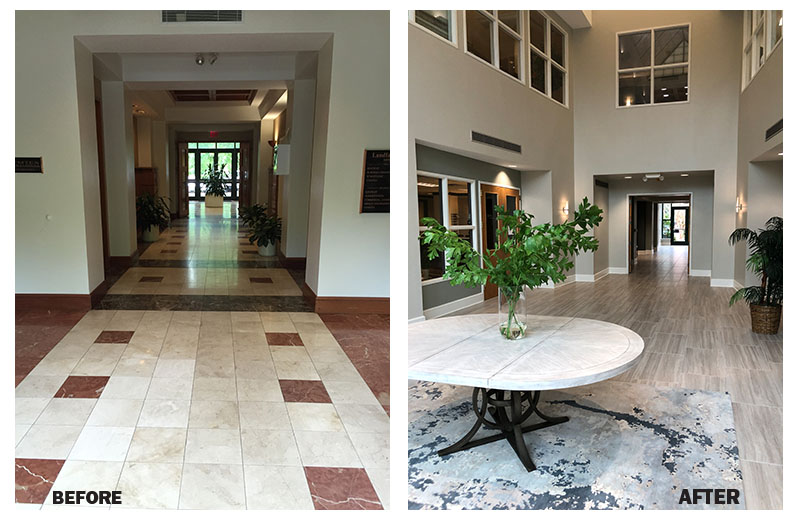 Along with aesthetic changes came new tenants, and those tenants worked with the owners, CFC, Big Sky and Sexton Construction on much of the interior upfits. One of those tenants is PolyQuest, a private company headquartered in Wilmington, which describes itself as "North America's largest distributor of PET resins, a leading manufacturer of recycled PET resins and a value added processor of PET scrap streams." PET resins are clear and lightweight plastics used in the manufacturing of a variety of products.
PolyQuest started moving into the nearly 17,000 square feet it leased in Landfall Park South, the entire second floor, late last year and completed its move-in and interior renovations by March this year.
In addition to lush new furniture, PolyQuest's upfit includes transforming some of its space into a bar and lounge area for employees and clients.
Another new tenant, law firm Murchison, Taylor & Gibson, leased more than 8,700 square feet in the building's first floor and moved its main operations to Landfall Park from downtown Wilmington.
Paul Loukas, Lindsey Hess and Vin Wells of CFC represented TDG in the leases and Spruill Thompson, also of CFC, represented the tenants.
Of the renovations and the leases, Loukas said, "We didn't want to complete the renovations and then have the tenants do their interior renovations and destroy this [the new look of the lobby and other common spaces].
"With Murchison, Taylor & Gibson and PolyQuest, they understood that, believed in Chris and Taylor Development Group, that they're going to fulfill their promise."
That promise, Ramm said, is to bring Landfall Park back to a modern Class-A office park "by investing in the buildings, the landscaping, as well as our tenants. Landfall Park is a long-term investment for us, and we wanted our tenants and the Wilmington market to know that."
Ramm declined to share the exact amount of TDG's spending on the renovation, but described it as "a significant amount."
Among its assets, TDG owns offices throughout the state, including in Raleigh. Five of those office properties are Class A.
But Ramm said it's getting more expensive to build office space.
"Increased construction costs have really slowed new office development, in the smaller markets," he said. It's hard for smaller market tenants to justify new construction lease rates when nice second-generation Class-A space is less expensive."
Loukas added, "There's always two questions from investors and developers: How much can you increase office rents? Because even coming out of the recession, up until about a year and a half ago, office rents were completely flat; they just hadn't increased. . . And then the second question is: Are they willing to commit long-term? Because historically, long-term leases were three to five years."
With confidence and an expanding economy, local office users are committing to larger square footage and longer lease terms, often seven to 10 years, Loukas said.
Over the past decade, other than a few build-to-suit and condo projects, very little new office product has been built, he said.
"We have seen investors capitalize on this demand/supply gap by purchasing and repositioning older office buildings to make them Class-A product again," Loukas said.
He said working on the update of Landfall Park South and Landfall Park North, where the occupants include UBS and IQVIA, was an eye-opener.
"It completely changed my attitude of what's possible with some of these older office spaces in town," Loukas said. "They can 100% compete with any new construction that becomes available."
View the original story on the Greater Wilmington Business Journal's website.