Three Businesses Moving To Autumn Hall As More Development Planned
Jun 28, 2021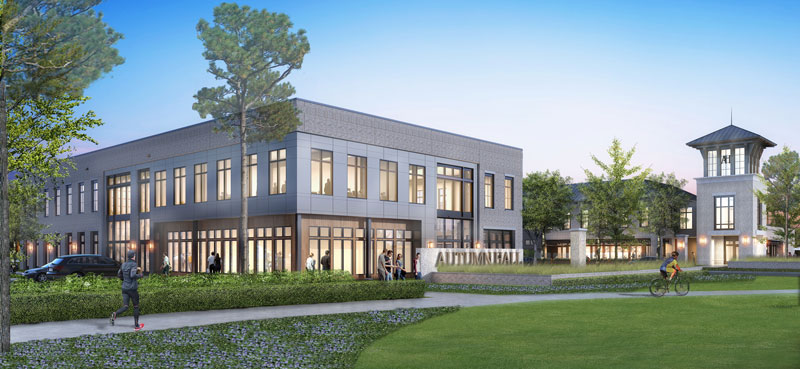 Story by: Cece Nunn, posted on WilmingtonBiz.com
Three more businesses are joining the mix at Autumn Hall in Wilmington, where work is underway on new buildings and future development plans include office space, apartments and a hotel.
Wilmington-based commercial real estate firm Cape Fear Commercial announced Thursday three leases totaling nearly 18,600 square feet in the latest phase of Autumn Hall, a master planned community on Eastwood Road.
Union Bank, Bill Clark Homes and SEPI Engineering & Construction have signed on to be the first tenants in the 25,655-square-foot, class A office building dubbed "Building 2" by developers.
"Union Bank and Bill Clark Homes will occupy the first floor of the building while SEPI has leased space on the second floor," the Cape Fear Commercial news release stated. "All three tenants are well-established businesses within the region and are relocating from their current locations on Military Cutoff Road, Racine Drive and New Centre Drive, respectively."
Mike Brown, senior vice president with Cape Fear Commercial, said in the release, "With the execution of these leases, the project is now 73% leased and approximately 7,000 square feet remain available on the second floor."
Site work has begun for Building 2, which is expected to be complete in spring 2022, the release stated.
The project is across from Building 1, a 19,000-square-foot structure under construction at the corner of Autumn Hall Drive and Eastwood Road, according to the release.
The buildings were designed by LS3P and are being developed by GHK Cape Fear Development. Thomas Construction Group is the general contractor.
Building 1 will be anchored by Starbucks and Ash Aziz's Origin Food and Drink.
Brown said Building 1 has 1,652 square feet remaining to be leased.
"With Buildings 1 and 2 underway, we are now turning our attention toward other projects in this next phase of Autumn Hall," Brown said in the release. "We plan to bring forward two additional office buildings (Buildings 3 and 4) to meet the steady demand for first class office space within the Landfall submarket.
"Additionally, we are working on a multifamily project with ground floor retail and expect to announce a 150-room hotel for the development later this year."
Brown and Brian Eckel of Cape Fear Commercial represented the landlord, Autumn Hall Building 2 LLC, in the three lease transactions announced Thursday. Bryce Morrison of Cape Fear Commercial represented Union Bank, while Paul Loukas, CFC's broker in charge, represented SEPI in lease negotiations, the release stated.
View the original story on the Greater Wilmington Business Journal's website.