Teamwork
Mar 24, 2021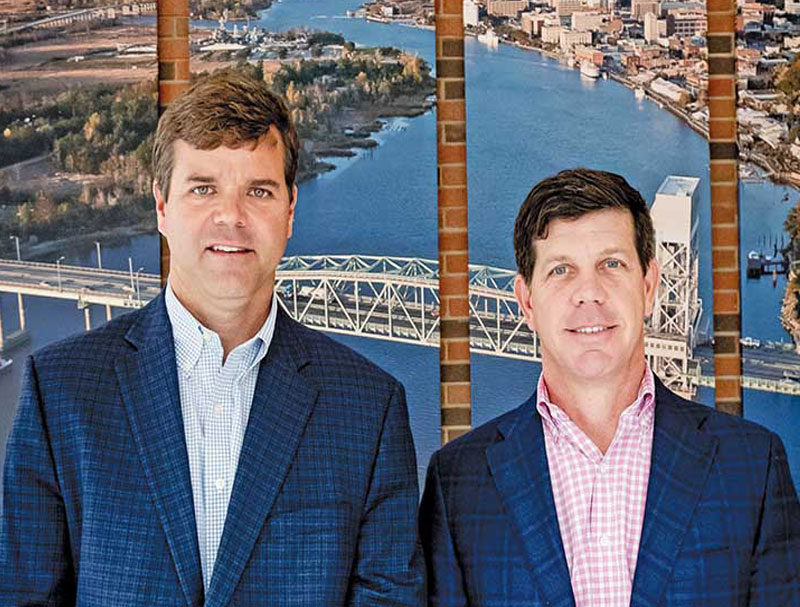 Story by: Teresa McLamb, posted on WilmingtonBiz.com
Their early years in real estate took Brian Eckel to Atlanta and Vin Wells to Florida, but the Wilmington natives found themselves thinking of home. "Both of us wanted to return home," Eckel said.
They started talking about a possible joint venture and return as early as 1998, Wells said.
Despite a bit of concern about the size of Wilmington's market compared to their current positions, "we ultimately decided this is what we wanted to do. We took a leap of faith," Wells said. "We literally opened the company in my living room on Sept. 11, 2001."
Today the two, along with broker in charge Paul Loukas, manage a team of 33 people – brokers, property managers and marketing professionals at Cape Fear Commercial. Their management portfolio includes office, medical, retail and industrial space primarily in the Wilmington region. From their initial brokerage services they've branched into development of commercial, industrial and mixed-use properties.
Eckel credits their success to the team.
"We have a collaborative team environment with an open-door policy. We believe our people are the most talented commercial real estate professionals providing us the highest quality of market expertise. We work extremely hard, but we have a ton of fun while we do it," Eckel said. Wells echoed his thoughts. "We're like-minded, driven, and we enjoy what we do."
CFC has been in the news recently with the announcement that it will handle New Hanover County's government complex redevelopment project. The plan includes 130,000 square feet of office space including 25,000 square feet for a Category 5 hurricane-fortified emergency center and 911 call center.
Seeking the least disruption of county workers, the new construction will be built in the existing parking lot. Groundbreaking is expected in March. Employees will continue to work in their current building. When new construction is complete, the 1989 former mall will be demolished.
Also included in the project is a mixed-use development of 280 apartments, a large park, 20,000 square feet of commercial space, a mix of hardscapes and multi-purpose open space, Eckel explained.
"It's been about a year-and-a-half we've been working on it so we're excited to break ground."
Eckel said that the county will retain ownership of the office building. "We are purchasing the remainder of the land for the mixed-use portion."
The company is well positioned to take on such a project. Since opening, it has developed 26 Walgreens throughout the Carolinas, five Publix groceries including one in Wilmington and one in Carolina Beach, dozens of Class A and medical office buildings, and self-storage. CFC is currently constructing two commercial buildings at Autumn Hall.
"We're moving our office over to Autumn Hall," Eckel said. "We've outgrown our space."
They have more than 1,000 apartment units under development and see another 1,000 on the horizon. They also have housing projects at Echo Farms: 176 units that were recently completed for Woodlands Landing Townhomes and Riverwood, a 208-unit development for which construction is expected to start this quarter.
Eckel noted that the office market is steady. Despite a move toward remote work due to COVID, they see 90% occupancy in most of their offices. "You don't want to underestimate face-to-face interaction. We believe the office market will come back strong," Eckel said. "I think a collaborative environment makes a big difference for businesses," Wells added.
"One of the hottest sectors now is industrial," Eckel noted.
He expects more speculative projects. CFC is working as leasing agent for Chris Ramm of Ramm Commercial Properties LLC of Winston- Salem, on a spec 125,000-square-foot industrial space in Pender County. Ramm owns several area properties. Their work together illustrates the team approach CFC embraces.
"Chris is a good example where he has probably touched six to nine members of our team: investment sales to property management to leasing to the new industrial as well as our maintenance staff," Eckel said.
"They do our property management and leasing and represent us when we're acquiring properties," Ramm said. "They're very entwined with our business representing us. They do the leasing for our office and industrial. On the brokerage side, they represent us when we're acquiring new properties. They have local market knowledge; they bring me deals. I trust them explicitly, and we have a good working relationship."
CFC has also taken on management of shopping centers including the Lowes Foods anchored-center at Brunswick Forest.
The alphabet soup that crops up around CFC could be confusing; each development or project is managed under a separate LLC all representing the development arm of CFC known as GHK Cape Fear Development. The government complex is being developed under Cape Fear FD Stonewater LLC.
Working in multiple municipalities and counties has its challenges, but they note they strive to keep solid relationships with government agencies and depend on the expertise and assistance of advocacy group Business Alliance for a Sound Economy.
As they enter their 20th year in business, the pair notes the huge change in the region's multifamily market, especially since CFC developed Headwaters at Autumn Hall in 2012. Eckel said, "Obviously we've experienced a tremendous apartment boom in Wilmington and nationally. We have no doubt this region will continue to grow so we see a positive outlook for multifamily."
View the original story on the Greater Wilmington Business Journal's Website.