Lindsey Hess Wins Spot On 40 Under 40
Jun 14, 2023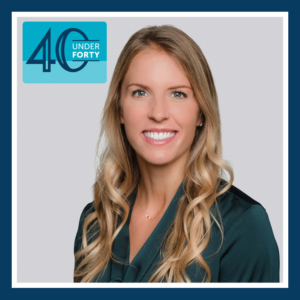 Lindsey Hess, senior vice president at Cape Fear Commercial, is among the winners of the 2023 Wilmington 40 Under 40, presented by the StarNews and Chamber of Commerce.
Lindsey, who has been with Cape Fear Commercial for 15 years, is one of the Wilmington area's highest performing brokers. In investment sales, she's participated in transactions totaling over $75 million.
"The most rewarding part of my work is helping local, upstart businesses achieve their real estate goals," Lindsey said. "It means a lot to me to secure a brick and mortar for clients, helping them to launch their new business. And similarly with established professionals in town, it's great to be able to work with them over the years to find new, larger spaces in which their enterprise can further grow."
She has played key roles in large-scale investment deals for Downtown Wilmington properties, such as the sale of the Murchison Building to Bush Watson for $8.25 million. She was the primary broker for the acquisition and assemblage of multiple other downtown lots, also by Bush Watson, which are being brought to life as energizing infill development projects that are boosting downtown housing stock.
In 2019, she brokered the sale of three local restaurants on behalf of restaurateur Ash Aziz, providing Ash with the time and capital to pursue his new projects at Autumn Hall and The Renaissance, while also helping an established Raleigh-based restaurant group expand their presence in Wilmington. At Autumn Hall, Lindsey recently fully pre-leased a forthcoming office building with growing local businesses.
Lindsey enjoys serving her alma mater as a member of the UNCW Seahawk Club Board of Directors, and she is also a member of the Wilmington Chamber of Commerce Finance Committee.