Atlantic Tire Distributors Named As First Tenant In Pender Spec Building
Aug 11, 2021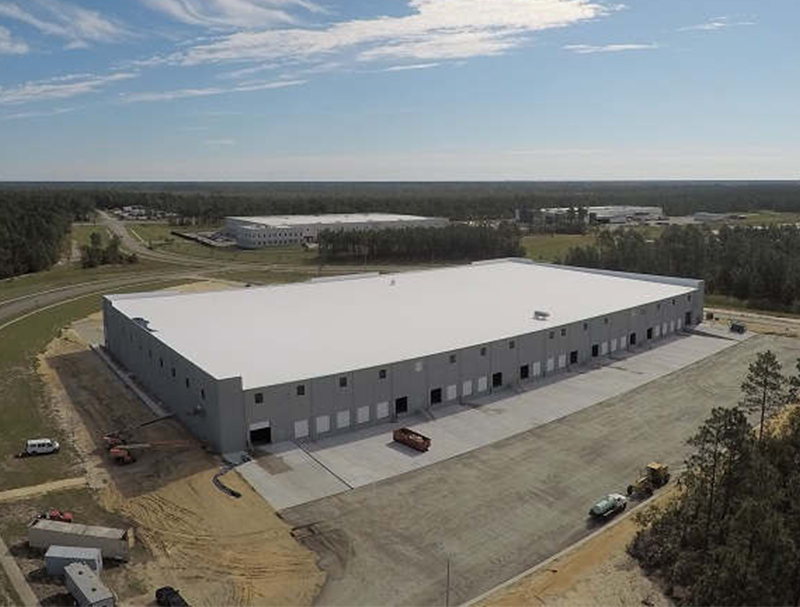 Story by: Christina Haley O'Neal, posted on WilmingtonBiz.com
Atlantic Tire Distributors will open a wholesale distribution warehouse facility in Pender Commerce Park, company officials said this week, adding that 15 jobs would be created initially.
The company is the first tenant in the newly constructed speculative building developed by Ramm Capital Partners. Atlantic Tire has leased about 28,000 square feet of space inside the building, said Chris Ramm, manager of the development firm.
Plans are to open the new distribution warehouse facility Monday, said Barry Hollowell, logistics manager for Colony Tire Corp., a holding company for Atlantic Tire.
Atlantic Tire Distributors is a supplier of passenger, truck, heavy-duty and specialty tires. Colony Tire offers services on top of tires, Hollowell said, and both companies are based out of Edenton.
The two companies have 45 locations on the East Coast, from Virginia to South Carolina. There is one location for Colony Tire on U.S. 421.
Atlantic Tire Distributors is a wholesale partner to tire retailers in North Carolina and Virginia. The distribution center in Pender County is the eighth for the company in North Carolina.
"We're opening up with 15 people. But we will probably get up to 30 [employees] in a matter of months," Hollowell said. "We'll be wholesaling tires and delivering to all the customers we can get."
For this distribution center, the company at one point looked in the Conway-Myrtle Beach, South Carolina area, he said.
"There was nothing suitable to be had. Then we found the complex in Pender County and fell in love with it. They worked with our model plan also," Hollowell said. "There were a few other choices in Wilmington that we could have picked, but that was overall our best pick for location and ease of getting to all the major roads and being able to get where we needed quickly – get the trucks out of the city."
The company will be located inside the 125,000-square-foot industrial spec building developed last year. The development firm is still seeking other tenants to fill the space.
Brokers Will Leonard and Paul Loukas of Wilmington-based Cape Fear Commercial represented the owner in the lease transaction. Cody Cress and Tyler Pegg with The CRESS Group of Wilmington-based Coldwell Banker Commercial Sun Coast Partners represented the tenant.
"They're a great first tenant. They are a very strong regional company, headquartered in North Carolina," Ramm said. "This is a strategic distribution center for the Eastern part of the state, and we're excited to have them."
View the original story on the Greater Wilmington Business Journal's website