TowneBank Subsidiaries, Construction Firm To Fill New Wilmington Office Building
Dec 12, 2017
Subsidiaries of a publicly traded bank, as well as a construction firm, will fill a new office building in Renaissance Park off Military Cutoff Road, according to an announcement Monday.
Officials with commercial real estate firm Cape Fear Commercial stated in a news release that TowneBank Mortgage and Towne Insurance are the anchor tenants for CFC's newest build-to-suit project, a 31,250-square-foot office building at 6925 Fresco Drive.
Virginia-based TowneBank (Nasdaq:TOWN) recently signed a long-term lease for 15,000 square feet for its subsidiaries, TowneBank Mortgage and Towne Insurance, to occupy the building's entire first floor, according to a news release. With the TowneBank commitment, the office project, which was first introduced as Renaissance II, will now be called the TowneBank Building, the release stated. Thomas Construction Group, the project's general contractor, will occupy the rest of the building, about 15,000 square feet on the second floor.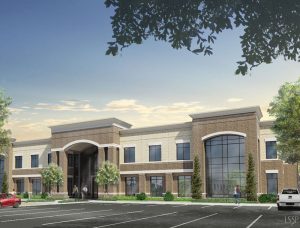 TowneBank Mortgage CEO Will Morrison stated in the release, "This project illustrates Towne's continued commitment to serving the mortgage and insurance needs of the Wilmington community. The time was right to establish a more prominent brand presence in the area."
Towne Insurance CEO Dudley Fulton said in the release, "We see the potential for continued growth in Wilmington and look forward to opening the doors to our new space."
Designed by LS3P Associates Ltd., the two-story TowneBank Building is slated for completion in fall 2018, according to the release.
"This project is another indicator of the strong commercial market," said Chris Reid, president of Thomas Construction Group, in the release. "Thomas is excited to once again work with a development group committed to true class-A office space and to partner with TowneBank for their Wilmington expansion."
Brian Eckel of Cape Fear Commercial negotiated the transaction on behalf of the landlord, Renaissance Two of Wilmington LLC. Cape Fear Commercial's Spruill Thompson represented TowneBank.
"After being engaged by TowneBank, we had a short window of time to find them office space," Thompson said in the release. "Fortunately, the landlord and tenant came together quickly on this deal."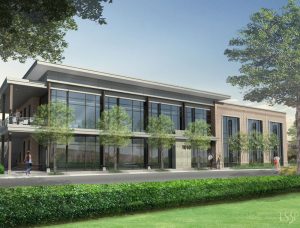 With high demand for class-A office space in the Landfall submarket, Cape Fear Commercial will soon begin marketing another fully permitted office building in Renaissance Park, the news release stated. The 20,500-square-foot, LS3P-designed building (rendering shown to left) will be located next to the TowneBank Building at 1010 Ashes Drive.
"This is one of the stronger office markets I've seen in the last 15 years," said Eckel in the release. "Similar to Renaissance II, we don't plan to build the Ashes Drive office speculatively and are looking to acquire a lead tenant before starting construction." Information regarding a groundbreaking ceremony for the TowneBank Building will be shared in the coming weeks.
View this story by Cece Nunn on the Greater Wilmington Business Journal's website.