Thinking Outside The "Box"
Oct 2, 2020
Story by: Cece Nunn, posted on WilmingtonBiz.com
The signs advertising sales are gone and the lights are out at Wilmington's two Pier 1 stores. The national home decor, furniture and accessories retailer announced earlier this year that it would be closing all of its stores after filing for bankruptcy in February.
At Hanover Center, 3501 Oleander Drive in Wilmington, the 11,000-square-foot space that previously held a Pier 1 location could hold more than one store in the future.
Breaking up retail space, or "boxes" as they're sometimes referred to in the commercial real estate industry, to make way for more than one tenant is already expected to happen at the former Rite Aid space at Hanover Center. The center dates back to the 1950s and was the first outdoor shopping center in what was then the city's suburbs.
The Rite Aid closed a couple of years ago. Another store at Hanover Center, clothing retailer SteinMart, was still in the midst of closing its doors as of Sept. 23 this year.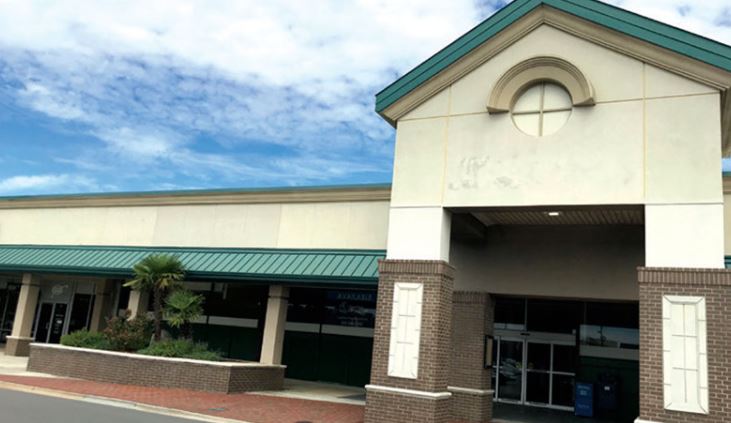 "We are close to executing a lease for one-third of the Rite Aid space [which totals about 9,000 square feet] and still await final bankruptcy liquidation of both Pier 1 and SteinMart before being able to market those spaces," said Randy Kelley, principal of Harbour Retail Partners, one Hanover Center's joint venture owners. "However, we have interest from a number of tenants."
He added, "We will likely break up both boxes into smaller spaces that will coincide with a facade remodel, which will include more activated storefronts."
It's part of the changes planned for Hanover Center, which also call for the addition of more than 260 apartments and creating a new outparcel on Independence Boulevard behind the Bank of America branch at the center.
In the world of commercial real estate, the word "box" doesn't always have anything to do with cardboard. Brokers use the term to describe various sizes of stores, from big boxes, which are typically at least 50,000 square feet and larger, depending on who you ask, to junior boxes whose sizes also vary depending on who's writing the marketing material.
One thing some brokers agree on is the need for creating smaller spaces within much larger ones if it's possible.
"Most likely, landlords will have to figure out a way to divide the larger retail space up into smaller, more marketable units going forward," said Bryce Morrison, broker with Wilmington-based commercial real estate firm Cape Fear Commercial. "Of course, they will have some constraints as to how they do that depending on the depth of some of these larger retail spaces."
Shopping center owners are used to adapting to changing demand.
"They may ultimately have to create space with smaller retail frontage and shallower depth," Morrison said, "to make it functional on the front portion of these 'big boxes' and have to get creative with what they do with the remainder of the space in the back behind the new retail bays, such as leasing it out as climate-controlled storage, bulk-warehouse storage or some other unique use."
The changes have their benefits.
"With this kind of redevelopment of the big-box space, the landlord should be able to generate a higher per-square-foot rental rate on the smaller retail storefronts that are created with additional income potential generated on the remainder of the space leftover in the rear," Morrison said.
He added, "It will be interesting to see how creative some of these developers/landlords get with how they redesign these larger retail spaces going forward, if they do end up with some large retailers vacating."
Challenges remain, said Hansen Matthews, broker and partner in Wilmington-based commercial real estate firm Maus, Warwick, Matthews & Co.
"Although I am an optimist, for every really cool idea that someone can offer for repurposing or subdividing big-box retail space, there are often at least three significant obstacles which stand in the way. The physical, cost and legal issues associated with reletting big-box spaces are enormous," Matthews said.
He said that as with the dwindling number of big-box retailers, there is also a dwindling number of junior-box retailers.
"Other uses such as entertainment venues make good replacement tenants, but ceiling heights may preclude them," Matthew said. "Likewise, 'last-mile' distribution centers are popular choices, but this means turning large areas of the parking lot into queuing areas for trucks."
At Independence Mall at 3500 Oleander Drive in Wilmington, a Lidl grocery store that had not yet opened as of Sept. 2 stands where the Sears used to be, and exterior- facing stores that include Dick's Sporting Goods and Five Below line the spot where the Sears wing once stood.
Dick's is scheduled to open this fall, and mall officials have said that much of the redevelopment project could be done by the holidays.
"Aside from finding new merchandise retailers, some popular choices have been grocery stores and large medical clinics," Matthew said of replacing big-box stores. "These tenants will continue to draw many customers to the shopping center on a regular basis and they will benefit the existing tenants."
Matthews added, "In more extreme cases, some landlords are completely razing the big-box structure and constructing multi-story apartments to create a mixed-use development."
Mayfaire Town Center, where Wilmington's other Pier 1 store was located, holds not only the former Pier 1 among its empty spaces but also an empty former location for children's clothing retailer Justice and the spot formerly occupied by Portrait Innovations.
While Mayfaire officials did not say specifically what is expected to be done with the former Pier 1 store, Paige Coniglio, specialty leasing manager and marketing director for Mayfaire, said, "We look at all viable options."
View the original story on the Greater Wilmington Business Journal's website.