Smaller Office and Retail Space, New Restaurants Biting, Post-Pandemic Commercial Scene Still Shaking Out
May 17, 2021
Story by: Johanna F. Still, posted on PortCityDaily.com
SOUTHEASTERN N.C. — The pandemic accelerated interest in home-buying in the Cape Fear region, while sales in the most populated metropolitan markets saw a slight decline, as people fled dense cities in favor of suburban hubs.
There's a general consensus that the residential real estate market's hot streak will remain strong in the near future. But there's less of a consensus about how commercial real estate will continue to develop in a post-pandemic market.
"I think a lot of the trends haven't really established themselves," said Paul Loukas, partner and broker-in-charge at Cape Fear Commercial. "I don't think anybody really understands how retail is going to shake out post-pandemic."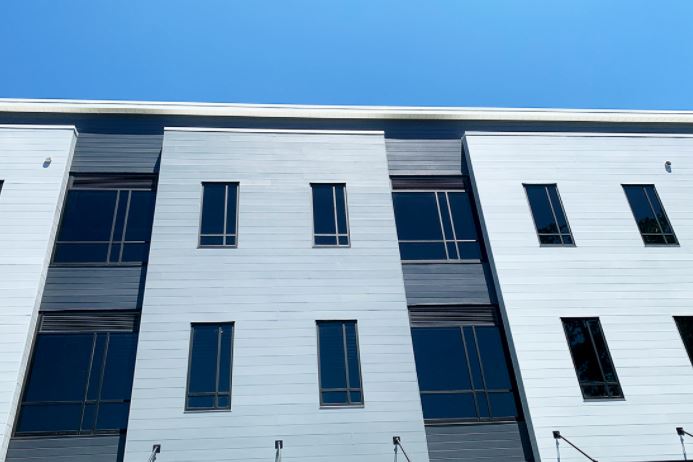 Retail & Restaurant
Retail is perhaps the most uncertain sector. Many big-box stores shuttered, with the pandemic serving as a proverbial nail in the coffin to aging companies. Many national tenants stopped paying their leases at the peak of the pandemic. Mayfaire Town Center filed for bankruptcy in November 2020 and lost Pier 1, Justice, New York & Company, Men's Wearhouse, The STEM Labs, and more.
Still, new businesses are opening in Mayfaire and elsewhere. With gathering and mask restrictions now lifted, shopping behavior is not yet set in stone. The pandemic exacerbated the already disruptive rise of e-commerce; that's not going away, but there's a question of how relevant in-person retail will remain.
Occupancy rates in shopping centers nationwide began the year at 90%, the lowest since the second quarter of 2012, according to the International Council of Shopping Centers. As rent collection rates dropped off in April 2020, the commercial mortgage-backed securities delinquency rate rose, peaking in June 2020 at 18%, now tapering off to about 11% — still higher than the pre-pandemic 4% rate.
Last month, commercial agents leased six retail spaces and sold nine spaces in eastern N.C., up four from April 2020, according to data provided by Cape Fear Realtors.
"Retailers have figured out how to do more with less," said Hill Rogers, broker-in-charge at Cameron Management. "There's not many large retail spaces available in town — there's a few — but it's harder to find those retailers that are in an expansionary mode. But they're out there."
Rogers did note he hasn't yet had luck on one large retail listing, 24,000 square feet in Ogden Plaza. "It's been a bit of a head-scratcher," he said.
Rising construction costs have led the company, which develops and leases commercial projects, to consider holding off on some plans that are otherwise ready. "We have some things close to being able to kick off that we may pause," he said. The hope, Rogers explained, is that costs will normalize in time. The risk is costs stay high.
Aside from builder-initiated pauses, there are actual slowdowns due to issues with supply chains, availability of labor, and cost of materials, Loukas explained. "What's happening now is that as construction prices have just skyrocketed, cost of lumber, the availability of steel and other building materials, that's almost created this unnatural delay anyway. So the market is sort of correcting itself, or at least there's some checks and balances in the market that are forcing us to slow down."
Commercial rental rates haven't kept pace with residential real estate's meteoric rise. Rental rates in Wilmington generally only increase by 3% a year, Terry Espy, owner of MoMentum Companies, said. Over the past four financial quarters, base rent was down in the South 9% compared to the previous four quarters, according to ICSC.
For the most part, Rogers said small, independent businesses have proven themselves in the retail sphere. Small-to-midsize spaces may show more longevity, he said.
"Small business owners are going to fight to their death to stay open," Espy said.
Espy admitted being bombarded with calls lately, from businesses looking to open downtown. "There's pent-up demand," she said. "We don't have enough inventory in the downtown market."
At this point, Espy thinks any local recovery grants that become available will be more necessary for retailers than restaurants. "Small retailers need it more," she said.
Restaurants, which suffered perhaps the biggest blows at the height of closures, are rebounding strongly as home-bound customers freed up from government restrictions and vaccinations are supporting local eateries in droves. Espy said her firm is getting two to three legitimate inquiries a day — most of them looking for restaurant space.
"It is a frenzy," she said. "'I'm telling them, 'We don't have empty restaurant spaces. They're very very few and far between."
For the past several weekends, Espy said a U.S. Foods representative told her deliveries to restaurants downtown have been the company's highest ever.
A U.S. Foods spokesperson said she can't share regional-specific data due to proprietary reasons, but pointed to the CEO's statements in a May 10 earnings call. In the call, the company reported the highest shipment to independent restaurants over Mother's Day weekend over the past five years.
Office & Industrial
The rise of remote work, necessitated by the pandemic, will likely forever change some workplace dynamics.
While some employees and companies are vying for a remote revolution, others want to revert back to how things were; the reality will likely fall somewhere in between. "I think a hybrid model is here to stay," Rogers said.
Rogers said there's also a pendulum swing of sorts occurring in the office sphere: Companies crafted open bull pits to increase communication, but, now, many employees want the privacy an individual office offers.
"I don't know what the right balance is," Rogers said. "I think people are trying to figure out, 'Do we need to have more space per employee? Or is it the same amount of physical space per employee but employees come in two to three days a week and it's more of a 'hoteling concept.'"
Some companies, including Wilmington's PPD, already calculated their office space while incorporating a remote base. The hoteling concept could rise in prominence, leading businesses to seek out smaller spaces post-pandemic.
"People don't need to be sitting in a desk in a room to be effective," Espy said. "That's what we're hearing."
Two-thirds of the Bank of America building is still empty, Espy said. The company closed the downtown branch in 2019, citing the rise of mobile banking as a reason behind consolidation.
The Verizon call center off Shipyard Boulevard, heralded as an economic development win for the region when it opened in 2004, is no longer serving its original purpose. At 160,000 square feet, the company committed to hiring 1,200 people within the first year; last year, it employed around 730, according to figures obtained by the Wilmington Business Journal.
Now, all of the company's telesales reps will permanently work from home — part of a company-wide decision made last year to move all telesales and wireless customer-service roles remote.
"There are no building closures planned at this time," a Verizon spokesperson said of the Shipyard building and other call center facilities. "Many of these buildings house a number of Verizon groups who are not planning to work from home permanently."
Downtown in the Cotton Exchange, Espy had a call center listing on the market for several months without much interest. Recently, the client removed the remnants of cubicles so the space could be divided into smaller office spaces, if necessary.
"If you're willing to carve it up, yeah, you'll spend a little money doing so, but you'll recoup it quicker because you can maintain a higher rent rate from the start," she explained. "They're going to have to be creative."
In general, office spaces are seen as overhead. They don't make companies money. Compared to retail chains, which meticulously choose spaces and locations, office space isn't as essential. "If companies can find a way to save money on office space, nine times out of 10, they do it," Rogers said.
Lease renewals will provide tenants the opportunity to redesign office space, if necessary. In general, Loukas said, though office trends are still uncertain, there has been "probably more contraction than expansion, without a doubt."
While some companies, including Wilmington's nCino — in the process of a 90,000 square foot expansion to accommodate 600 new employees — still want big office space, Rogers said it would be too risky to build a large office building without a tenant involved from the start.
"I don't know that I would want to go out and speculate and build an office without a lead tenant thinking I'm going to go out and fill it up. That's probably too risky," he said. "I would have said that before the pandemic and the volatile increase in construction pricing that we've all experienced over the last six months."
However, speculative building on the industrial side — a trend locally popping up more over the past year — will likely pay off. Interest in industrial spaces is taking off, commercial agents say. There's demand for "last-mile" industrial warehouses, which service companies looking to store products before reaching online consumers where they are.
Sales and lease figures provided by Cape Fear Realtors show this segment is exactly on par with where it was last year, but agents say big deals are currently in the works.
"Industrial has just completely boomed," Loukas said. "That's a segment that we see has a large runway in front of it."
View the original story on the Port City Daily's website.