Project With Apartments, Retail Proposed Off Carolina Beach Road
Jan 29, 2021
Story by: Cece Nunn, posted on WilmingtonBiz.com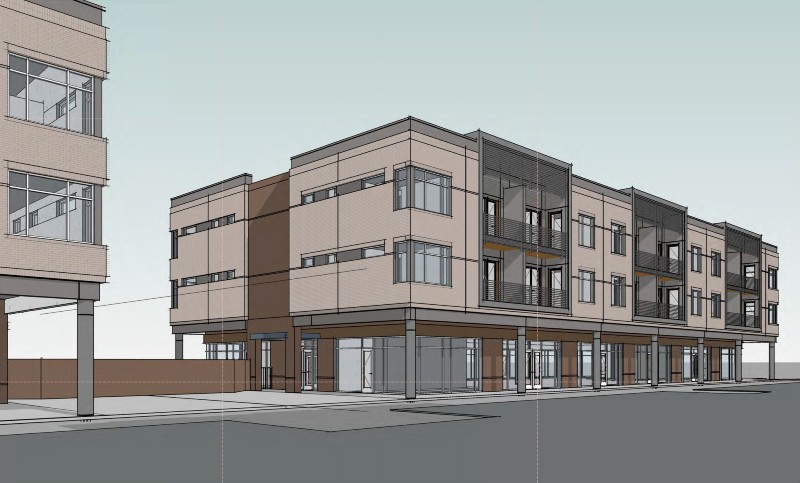 Plans have changed for a mixed-use project tentatively called Meridian Station, planned for a site off Carolina Beach Road.
Instead of just office and retail space in two buildings, the top two floors of the three-story structures will hold 48 upscale apartments, 12 on each floor.
Meridian Station would be located at 4649 Fairview Drive facing Carolina Beach Road and in front of the apartment community Meridian at Fairfield Park, a 241-unit complex completed in 2016. Meridian Station, however, is a separate development from Meridian at Fairfield, a developer said.
Site plans for Meridian Station as an office-and-retail complex were submitted in 2018.
But during the pre-leasing phase of the project, "we discovered that while there was a lot of interest related to the retail space, we really didn't get a lot of interest in terms of office, and so we came to the conclusion that maybe this wasn't the best location for office," said Richard Cotton, who is the developer along with Neal Hunt of Raleigh. "We decided to revise the plan. The second and third floors will be apartments and all one-bedroom apartments."
Each apartment will have a larger-than-normal balcony, which will be 13 feet long, said Cotton, who is also managing director of Multifamily Realty Advisors.
A courtyard with a lap pool and 6-foot-high privacy fence is planned between the buildings, which will each have a lobby with elevator and secure entry to the second and third floors. A portion of the center courtyard will be open to the public and utilized for outdoor dining.
For the first floor, brokers with Wilmington-based commercial real estate firm Cape Fear Commercial are working on the leasing.
"We're hoping to have a couple of nice restaurants there, and some of the space will be storefront office and storefront retail," Cotton said. "We probably have 1,000 to 1,200 households within walking distance so our leasing broker, Spruill Thompson, is very, very optimistic about that space leasing up."
LS3P designed the buildings, and Cline Design is the landscape architect.
While apartment projects have been ongoing in the Wilmington area, even during the pandemic, the market has absorbed them, Cotton said.
In 2013, the Wilmington apartment market had roughly 10,000 units, he said.
"That has probably increased by 7,000 or 8,000 units. That's a tremendous increase," Cotton said, "and yet the occupancy and the rent growth is stronger today than it was then. I think the apartment market has not shown any evidence of weakness and I think the demand will continue."
The city's project tracking website as of Thursday afternoon did not show a scheduled Technical Review Committee meeting for Meridian Station, but Cotton said he hopes construction can start in May.
View the original story on the Greater Wilmington Business Journal's website.