Homebuilder Buys Nearly 43 Acres In Hampstead
Jun 13, 2017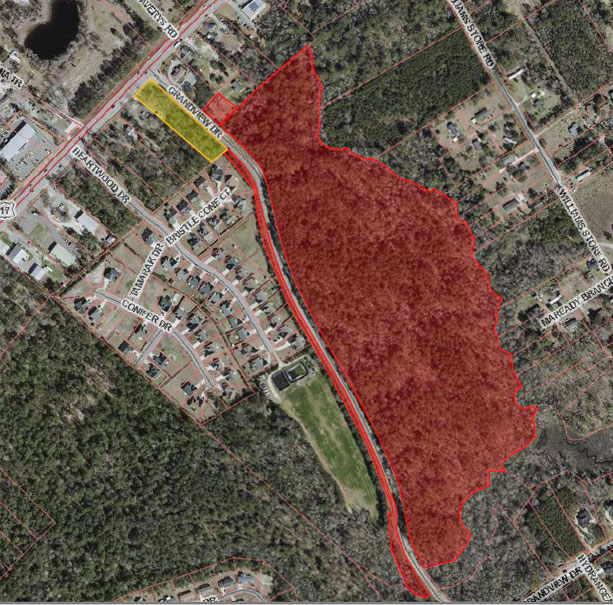 A homebuilder with offices in Wilmington and Jacksonville bought nearly 43 acres in Hampstead this week with plans to create a new residential development.
Crestwood Development bought the property at U.S. 17 and Grandview Drive from S&R Grandview LLC for $1.425 million, according to a news release from Wilmington-based real estate firm Cape Fear Commercial. Crestwood is a limited liability company registered to Craig Smith, owner of homebuilding company 70 West.
Paul Loukas, broker-in-charge at Cape Fear Commercial, represented the seller in the transaction.
Pender County officials approved a rezoning for the land from Planned Development (PD) to a lower-density designation, Residential Performance (RP), earlier this year, according to county meeting records. As they continue planning the development, 70 West officials said Tuesday they expect to share more information about the project soon.
A narrative by Paramounte Engineering Inc. submitted to Pender County on behalf of Crestwood Development in January said the RP zoning for the site matches that of the adjacent and recently developed Hampstead Pines neighborhood and allows "for the construction of lots of similar size with comparable density."
For Pender, the community of Hampstead is already a site of growth, with more expected to come.
"Hampstead continues to be a highly sought after market for builders and developers," Loukas said in the release. "There are a number of projects in the planning phase, which speaks to the strength and attractiveness of the area."
Loukas added, "Even with strong demand, the market is extremely sensitive to land and development costs. Our region is largely driven by the gross sales price of homes as compared to a price per square foot value."
In closing this transaction, Loukas sold more than $21 million over a 10-day period, the release said.
View this story by Cece Nunn on the Greater Wilmington Business Journal's website.