Developer Breaks Ground On Two Apartment Projects
Oct 9, 2020
Story by: Cece Nunn, posted on WilmingtonBiz.com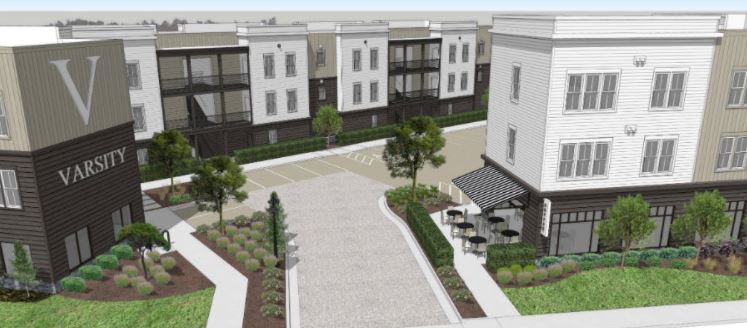 Crews for Wilmington firm Real Properties LLC broke ground recently on two apartment projects.
The Varsity, at 724 S. Kerr Ave. in Wilmington, will offer 24 one- and two-bedroom apartments and 5,500 square feet of commercial space.
Construction is expected to be complete within a year, said Matt Scharf of Real Properties. The apartment complex is adjacent to an events center underway by Wilmington Brewing Co.
Some of The Varsity's commercial space will serve as Real Properties' real estate office, while 3,300 square feet is available for a coffee shop, restaurant or retail use. That space is listed by commercial broker Paul Loukas of Wilmington-based commercial real estate firm Cape Fear Commercial.
"There seems to be a good bit of student housing in that area and this provides a great alternative," Scharf said, adding that the apartments also give residents easy access to nearby grocery stores, restaurants and other businesses.
Also under construction are more apartments in the Studio 17 project by Real Properties. All the units contain one bedroom in the complex on South 17th Street in Wilmington.
Scharf said the second phase of Studio 17, which is mainly leased to veterans, has eight apartments and 2,500 square feet of commercial space for a potential coffee shop or other use. The commercial portion is listed by broker Terry Espy of MoMentum Companies.
Studio 17 residents receive vouchers that cover water, power and rent, Scharf said.
The architect for both Studio 17, under construction by ACC Construction, and The Varsity, being built by HK Jordan, is Frank Smith, principal of Smith 2 Architecture + Design.
View the original story on the Greater Wilmington Business Journal's website.