CFC Brokers Nearly $6M Office Space Sale
Oct 2, 2019
Story by: Cece Nunn, posted on  WilmingtonBiz.com
In transactions that totaled nearly $6 million, separate buyers recently purchased floors of a Mayfaire office building.
MJP Properties LLC of Wilmington bought the 12,000-square-foot third floor of The Offices at Mayfaire III, 6752 Rock Spring Road, for about $2.8 million, according to a deed recorded Sept. 30.
Tenants on the third floor are Wells Fargo Private Bank, Tidal Wellness and Butler Snow law firm.
Steve Hall, partner with Wilmington-based commercial real estate firm Maus, Warwick, Matthews & Co., represented MJP Properties in the transaction, and Will Leonard of Cape Fear Commercial, another Wilmington-headquartered commercial real estate firm, represented the seller, Mayfaire 111 LLC.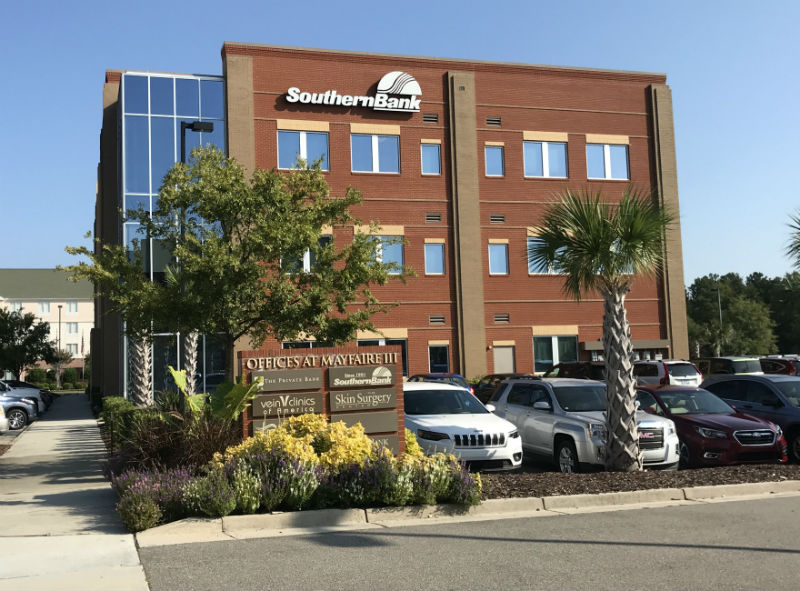 "There's a demand for good quality income-producing properties," Hall said Wednesday. "You're able to capture a higher rate of return on your investment versus a money market or CD account with the bank right now."
Of the demand for office space throughout the Wilmington market, Hall said, "Companies are in a massive growth pattern right now, and they've got to accommodate their employees."
MJP Properties LLC's members are Jan and Mark Pahl, according to state records.
In August, Southern Bank purchased its Wilmington office space and the rest of the first floor of The Offices at Mayfaire III for a little over $3 million, also from Mayfaire 111, a limited liability company headed by Arthur Rice.
Paul McCombie, Leon Pruzan and Lenny Smith opened the first Wilmington location of Mount Olive-based Southern Bank in 2016 at Landfall Executive Center before moving to The Offices at Mayfaire office park.
The bank occupies one of four spaces on the first floor of The Offices at Mayfaire III. Two other tenants there are Chemtex Global Corp. and Helen Tarokic Law. A fourth space is expected to give Southern Bank some more room to grow, said McCombie, who is the Cape Fear market executive for Southern Bank.
The bank worked with Gram Spear of Kinston on the transaction. McCombie said Southern Bank based the decision to purchase the space on several factors.
"We really love this location. There's so much growth in this area of town; it just seemed to be a great location, and the bank was committed to a long-term investment in the greater Wilmington market," McCombie said. "And so as we started looking around for space to build an office, we kept coming back to this location … We felt like it gave us plenty of room to expand and the location's worked out great. It was just kind of a win all the way around."
The Offices at Mayfaire VI, the last of the Mayfaire office buildings developed by Steve Anderson of SAMM Properties between 2011 and 2019, sold in its entirety in February for $11.7 million.
View the original story on the Greater Wilmington Business Journal's website.