At Publix-anchored Center, Kickboxing Coming And Fairy Circle To Open Wednesday
Jan 2, 2018
Franchisees of a national chain are getting a kick out of Ogden Market Place in Wilmington.
Perry and Lynnette Spinelli are opening the first Wilmington location of 9Round 30 Minute Kickbox Fitness this month in Suite 120 at 7122 Market St., part of a Publix grocery store-anchored retail center, according to an announcement from commercial real estate firm Cape Fear Commercial.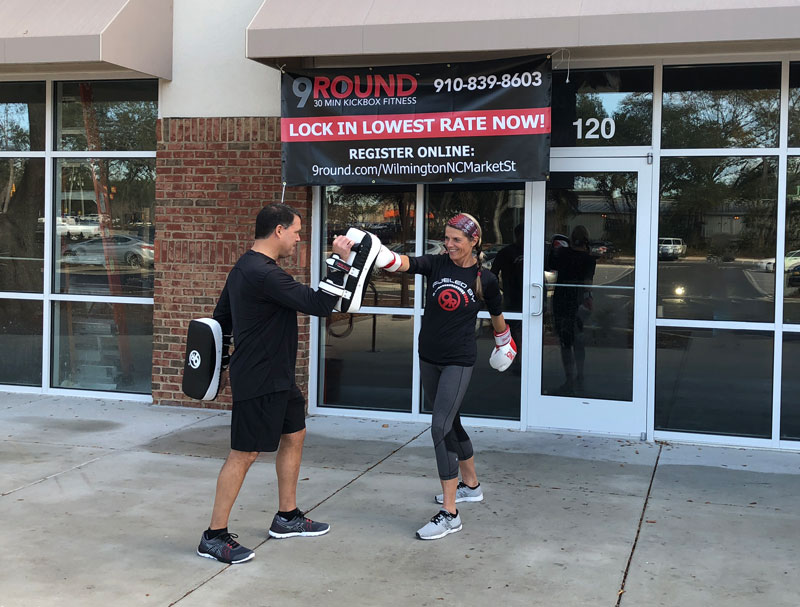 The Spinellis, who have had success in other markets, hope to open this month, Lynnette Spinelli said Tuesday.
Meanwhile, The Fairy Circle, described as a consignment shop for the area's teens, 20-somethings, and young professionals on its website, had been preparing Tuesday for a possible Wednesday opening in Ogden Market Place one door down from 9Round, after closing its Monkey Junction store last Thursday. The business, founded in 2001, is owned by Stephanie Denning. Its other location is at 1045 South College Road.
The Spinellis signed a lease for their 1,651 square feet in November and the space is currently being renovated. 9Round offers a kickboxing-themed fitness program that incorporates functional, interval, cardiovascular and circuit training regimens, according to the Greenville, South Carolina-based chain's website.
"The Publix was a big draw for us … It's easy in and out because that's really the whole concept of the workout. It's 30 minutes, and it's a circuit so there's no class time. It is super convenient to just pop in here whenever it works for your schedule," Lynnette Spinelli, a certified trainer, said.
In the announcement, she said 9Round offers "a fast and effective workout that is fun and keeps you coming back … The program includes a trainer to encourage and motivate you and also incorporates heart rate technology and nutritional science."
She started as a 9Round member nearly five years ago, fell in love with the workouts and the concept and eventually became a trainer and manager of a studio, the announcement said. The Spinellis are currently working on building the Wilmington location's charter membership.
Cape Fear Commercial broker Lindsey Hess negotiated the lease transaction on behalf of 9Round Fitness, and Rianne Bell of the Bell Moore Group represented the landlord, the Cape Fear Commercial news release stated.
With the grand opening of the Ogden studio drawing near, the Spinellis are working on another 9Round location they plan to open in 2018 in the New Hanover Regional Medical Center/Independence Boulevard submarket, the release said.
"Lynnette and Perry have chosen a great location for their inaugural 9Round in Wilmington. I anticipate this concept to be highly successful in a very active, fitness friendly community" Hess said in the release.
The 72,782-square-foot Ogden Market Place is owned by Halpern Enterprises, a retail shopping center developer based in Atlanta, and managed by Cameron Management Inc.
The Publix opened in November. A Pizza Hut is also open there, and other tenants on the way are a nail salon, Moe's Southwest Grill, Double Happiness restaurant and Smoothie King.
View this story by Cece Nunn on the Greater Wilmington Business Journal's website.