The Proximity, Mixed-Use Project On Carolina Beach, Approved By Council
Nov 14, 2021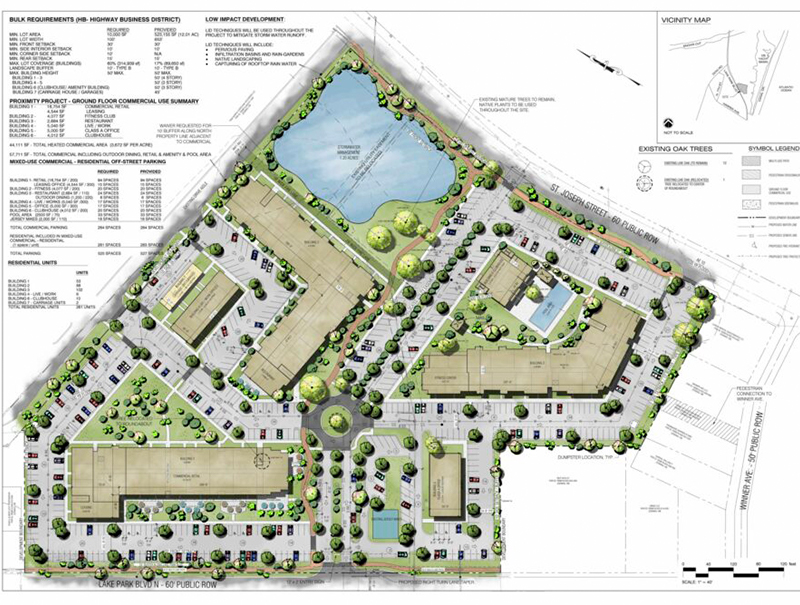 Story by: Port City Daily Staff, posted on PortCityDaily.com
Town council approved a rezoning bid last week for the Proximity. The mixed-use development will take up 10 acres next door to the Publix grocery store off Lake Park Boulevard.
Spearheaded by Cape Fear Commercial and its sister company GHK Cape Fear Development, the proposal was the latest attempt to launch development of the site, which is one of the last remaining large, vacant tracts on the island.
Decades ago, the land was used to store old amusement park rides from the boardwalk. Recently, it has been held by the grocery company Harris Teeter, which went to court a few years ago to prevent the development of the neighboring Publix (also developed by the same cast behind the Proximity).
The Proximity would include seven buildings with a total 261 residential units and commercial space placed throughout the site. Amid concerns from some Carolina Beach residents, who either had gripes with the project or were totally opposed to it at all costs, the developers hosted 25 meetings with the public.
Sam Franck, the developers' attorney, said Tuesday at the council meeting he had never been part of a project with such a level of community interest.
"Welcome to CB," replied outgoing councilor JoDan Garza.
Cape Fear Commercial co-founder Brian Eckel began pitching the project around two months ago. First he and his team needed to convince the town to tweak its zoning code so the Proximity developers could have leeway to put residential units on the ground floor of their buildings.
That first attempt was unanimously recommended for denial by the planning board, but town council eventually approved the rule change. When it came time to consider the project itself, both the planning board and town council overwhelmingly approved the Proximity application (Garza dissented Tuesday).
"We feel very honored to have the stakeholders in Carolina Beach embrace us and our plan the way they did," Eckel said.
"This property is an important property in our community and we want to deliver an iconic development that we are all very proud of. We have made a lot of good friends within the community and we plan to strengthen those relationships during our next phase which is the technical design and architecture portion."