The Digest: Autumn Hall Unveils Expansion
Mar 26, 2019
Story by: Cece Nunn, posted on WilmingtonBiz.com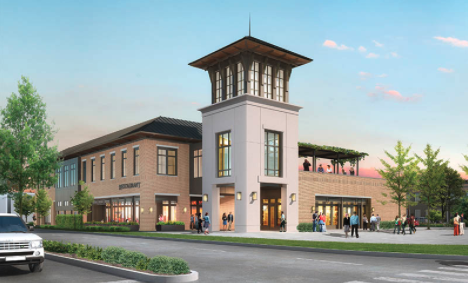 The next phase of Autumn Hall is expected to include high-end retail, restaurants, offices and apartments, and construction could begin as early as summer 2019, according to project developers.
Construction of the 235-acre development Autumn Hall, which has long been planned as a mixed-use project, began in 2007.
"We've been very patient and very deliberate about trying to proceed in a manner that makes sense," said Mike Brown of Autumn Hall and Wilmington-based commercial real estate firm Cape Fear Commercial. "We want everything we do to be high-end and raise the bar on quality here for a real high-end mixed-use experience."
Preliminary plans for Autumn Hall's latest phase show a 13-acre mixed-use phase between Carolina Bay Drive and Autumn Hall Drive, fronting on Eastwood Road. The project includes seven buildings with 28,000 square feet of retail/restaurant space, 90,000 square feet of offices, and 180,000 square feet of residential space.
Brown said the plans include 140 apartments, many above potential retail and restaurants with opportunities for outdoor dining. The designs also show an event lawn connecting to the Gary Shell Cross- City Trail.
Autumn Hall already has about 200 lots and homes, 286 apartments and 65,000 square feet of existing office and retail space that is home to Drift Coffee, Harrington Homes, Coldwell Banker Sea Coast Advantage Realty, Glen Meade Center for Women's Health and the Nunnelee Pediatric Clinic. It is also home to Carolina Bay, a continuing care retirement community owned and operated by Liberty Healthcare.
View the original story on Greater Wilmington Business Journal's website.