NEWS RELEASE: Real Estate Award Winners Announced
Feb 12, 2020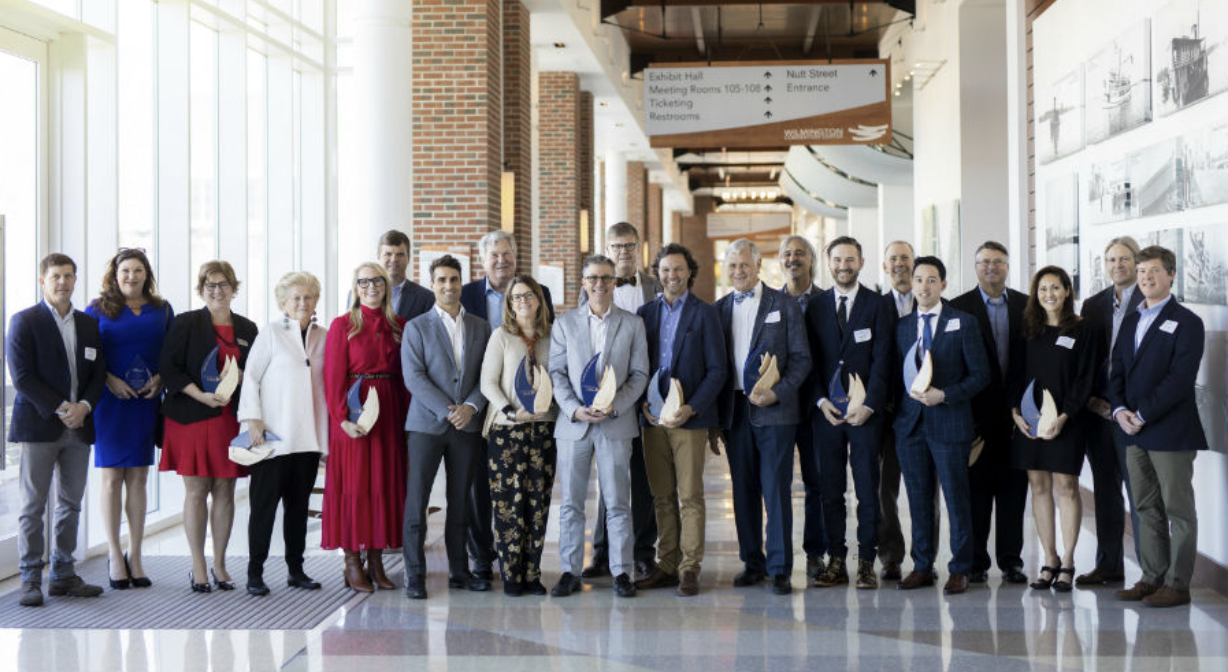 Wilmington, N.C. – February 27, 2020 – Cape Fear Commercial Real Estate Women (CREW) has announced the winners of its 2020 Awards of Excellence, held Thursday at the Wilmington Convention Center.
The awards focus on the rapidly growing Cape Fear region commercial real estate sector, recognizing excellence and leadership in the industry, according to a CREW news release.
The event was led by Julie Andrews of Logan Homes, who is Cape Fear CREW's president. She said in the release, "This year's awards reflect the high level of performance we are seeing in commercial real estate projects and transactions throughout the Cape Fear region."
The winners are:
Best Interior Award
Tails Piano Bar
"At 115 S. Front Street in Wilmington, a 1930's Prohibition theme was chosen for Tails Piano Bar to make those that enter feel they are special. It is all about the experience and that would not be possible without the right ambiance and design, hence the black tuxedo hung strategically on the rear wall. Cozy seating areas allow for intimate gatherings. The exposed brick walls remain a prominent feature with decorative paint treatments throughout. The rear gardens are surrounded by the exposed brick walls of an old building that had fallen to disrepair. This space features more intimate seating groupings. This beautiful venue makes those that visit feel lifted and transported to another time."
Dealmaker Award
Pacon Manufacturing Relocation
"Pacon Manufacturing was looking to relocate their manufacturing and headquarters from New Jersey to the southeast region of the US due to high business costs, weather and standard of living. Working with Cody Cress and Tyler Pegg with the CRESS Group of Coldwell Banker Commercial Sun Coast Partners, Pacon selected Brunswick County to expand its operations . . .  At the facility on April 5, 2019, Gov. Cooper introduced 'Project Pavement' announcing Pacon's relocation and receipt of a performance-based grant from the One North Carolina Fund. The One N.C. Fund provides financial assistance to local governments to help attract economic investment and to create jobs. Pacon has begun constructing building improvements and [is expected to] be fully operational by the end of 2020."
Placemaking Award
ARRIVE Wilmington
"The first phase of the ARRIVE Wilmington project was the renovation and interior redesign of the old Wilmingtonian hotel. The three building, 8,550 square foot property was transformed to include 36 luxurious guest rooms, the Dram Yard Restaurant and a courtyard with an outdoor bar, two fireplaces and six fire pits. Being Wilmington's first boutique hotel, the ownership of ARRIVE felt a responsibility to provide an environment that would be unforgettable. No expense was spared when it came to interior appointments. All exterior elements required Historic Preservation Commission's approval from the courtyard grounds to every detail of the buildings. In response, the team brought back the original storefront windows and doors of what is now the Dram Yard Restaurant and returned the former convent building back to its original glory."
Economic and Community Enhancement Award
Girls Leadership Academy of Wilmington (GLOW)
"GLOW officials wanted to build a campus that satisfied requirements for connectivity of communities, safety for students, staff and area residents and convenience. A 100% women-led architectural, engineering, landscape design and general contracting team was retained and worked with the GLOW Board to develop a new campus reflecting the values of GLOW. Five beautiful new buildings — administration, two middle school buildings, a high school building and a student center and makerspace building — now provide GLOW students, coming from families without a college experience, with the skills they need to attend college successfully and compete and succeed in the modern business world or create businesses of their own."
Career Advancement for Women
Stephanie Lanier: The Inspiration Lab/Lanier Property Group
"Stephanie Lanier founded and leads The Inspiration Lab, a community of women who want to grow personally and professionally through teaching, tools and socializing events multiple times a month. With over 300 women as members, The Inspiration Lab is the largest women's professional development group in Wilmington. A nationally celebrated speaker on the topics of real estate, self-care, and marketing, Stephanie hosts an annual women's conference with more than 325 attendees focused on elevating the status of women as speakers and panelists. Many of the speakers from last year's conference have gone on to paid speaking engagements after getting their start at The Inspiration Lab."
Beth Quinn Excellence Award
Nancy Guyton, Kincaid & Associates PLLC
"Nancy Guyton has been advising businesses and individuals in business and real estate law in our region for more than thirty years. She is a past board member of Cape Fear CREW and is the current Membership Committee Chair. She is a North Carolina State Bar Board Certified Specialist in Real Property Transactions – Commercial and Residential and is the only woman who holds the Commercial Specialist designation in eastern North Carolina. She has been appointed by the North Carolina State Bar to serve on the North Carolina Real Property Specialization Committee. Nancy was named Legal Elite for Real Estate by Business North Carolina in 2019. Nancy serves as a Commissioner on the Wilmington Housing Authority Board. She is also an active member of the North Carolina Association of Women Attorneys and was a founding member and a former officer of the Coastal Women Attorneys Chapter. She is a past board chair and board member of the United Way of the Cape Fear Area, a Board member and Secretary of the SHE ROCKS, Inc. board since its inception, and a past board president of the YWCA of the Lower Cape Fear. She is a member of the North Carolina Bar Association and has served as a member of its Real Property Council."
Impact Award Winner
Cape Fear Commercial
"Founded in 2001 by Wilmington natives Brian Eckel and Vin Wells, Cape Fear Commercial specializes in providing targeted brokerage, property management and development services. In January 2017, Paul Loukas stepped into the role of broker in charge, joining Eckel and Wells in Cape Fear Commercial's leadership and oversight. An equal opportunity employer, Cape Fear Commercial boasts a team of 27, with a nearly 50/50 gender mix. The company encourages involvement in the local community and volunteering is an important aspect of that commitment. Members of the firm serve on various business and community boards. Just recently, the firm participated in an 'all-hands' Habitat Build Day. Employees are also encouraged to support causes they are passionate about both during and after work hours. In 2015, Cape Fear Commercial partnered with GHK Development Inc. to form GHK Cape Fear Development (GHKCFD). A driving principle for all development projects is to create value that benefits the surrounding community. Since the firm's inception, the company has completed brokerage deals in excess of $1.5 billion and more than $500 million in development projects, in addition to managing a rapidly increasing management portfolio of 3 million+ square feet. Members of Cape Fear Commercial consistently challenge and inspire one another while working collaboratively in a results-driven manner to not only deliver innovative real estate solutions, but also leave a lasting impact on the community."
In addition to the Cape Fear CREW Awards, the release stated, the organization was joined by The Realtors Commercial Alliance of Southeastern North Carolina to present their Member of the Year award to Kelly L. Stuart of Carolinas Commercial Real Estate Team and their Commercial Lifetime Achievement Award to David H. Stuart (Kelly's father and business partner).
The judges for the Cape Fear CREW Awards were Steve Yost, Judges Committee Chair, North Carolina's Southeast; John Elliott, Duke Energy; Secretary Susi H. Hamilton, N.C. Department of Natural and Cultural Resources; Joseph O. Taylor Jr., Murchison, Taylor & Gibson PLLC; Julie Wilsey, Wilmington International Airport; and Cindee Wolf, Design Solutions
About Cape Fear Commercial
Based in Wilmington, North Carolina, Cape Fear Commercial LLC, is a boutique commercial real estate firm that provides targeted brokerage, property management and development services. The firm helps owners, users, developers and investors to successfully navigate the real estate market and is consistently recognized as an industry leader for the unique perspective it brings to every project. For more information, visit www.capefearcommercial.com.