NEWS RELEASE: Cape Fear Commercial Leases Nearly 4,600 Square Feet To Mellow Mushroom At River Place
Feb 12, 2019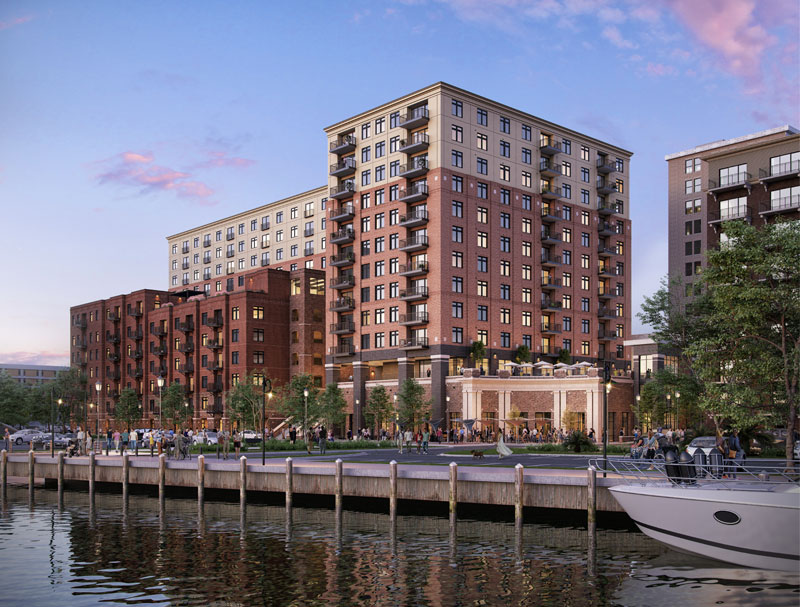 Wilmington, N.C. – February 12, 2019 – Cape Fear Commercial (CFC), one of the area's leading commercial real estate firms, today announced the addition of Mellow Mushroom to the tenant roster for River Place, a mixed-use project currently under construction at 200 N. Water St. in downtown Wilmington. Down By the River LLC d/b/a Mellow Mushroom recently signed a lease for 4,580 square feet of space on the ground level of the 13-story development, marking the restaurant chain's third location in the local market.
Cape Fear Commercial served as a dual agent in the lease transaction, with Patrick Riley representing the landlord, SCP-EW River Place LLC d/b/a East West Partners, and Howard Coupland representing the tenant.
"We are thrilled that Mellow Mushroom has chosen to open a new location at River Place," said Lee Perry, a partner with East West Partners, whose Chapel Hill-based firm is redeveloping the site of the former Water Street parking deck. "We were seeking an energetic and casual dining atmosphere to activate this marquee outdoor waterfront space at the corner of Chestnut and Water Streets, and we believe Mellow Mushroom to be the perfect fit."
"With Circa Restaurant Group, Axis Fitness and Mellow Mushroom onboard as anchor tenants for River Place, the table is now set to pull pedestrian foot traffic north along the Water Street riverfront," he commented. "Re-energizing this block of Water Street was one of most important goals for both the City of Wilmington and East West Partners since the early conception of the River Place project."
Local Mellow Mushroom franchisees Robert Ray and Kevin Dukes opened their first store on Oleander Drive in 2003 and just recently completed a renovation of the establishment. The duo also operates another location on Causeway Drive in Wrightsville Beach, which they opened in 2011.
"The folks of Wilmington and Wrightsville Beach have been so good to us, and we are just very excited to finally be a part of downtown Wilmington," said Ray. "We looked at a spot in the area 15 years ago for our first store, but as it turned out, ended up on Oleander Drive. Over the years, we have always wondered what could have been, so we are thrilled for the opportunity to be part of such an epic project on the riverfront and can't wait to be a part of a community where we are already friends with so many businesses."
According to Riley, "There has been an uptick in retail leasing activity now that construction of River Place is underway. With the execution of Mellow Mushroom's lease, 60 percent of the project's 32,000 square feet of commercial space is now pre-leased."
In addition to the retail component, River Place will feature luxury condominiums for sale and luxury rental apartments, as well as public and private parking once complete.
Ray and Dukes expect to open their new downtown location by April 2020.
About Cape Fear Commercial
Based in Wilmington, North Carolina, Cape Fear Commercial LLC is a boutique commercial real estate firm that provides targeted brokerage, property management and development services. The firm helps owners, users, developers and investors to successfully navigate the real estate market and is consistently recognized as an industry leader for the unique perspective it brings to every project. For more information, visit www.capefearcommercial.com.