Military Cutoff's Office 'Renaissance'
Feb 7, 2018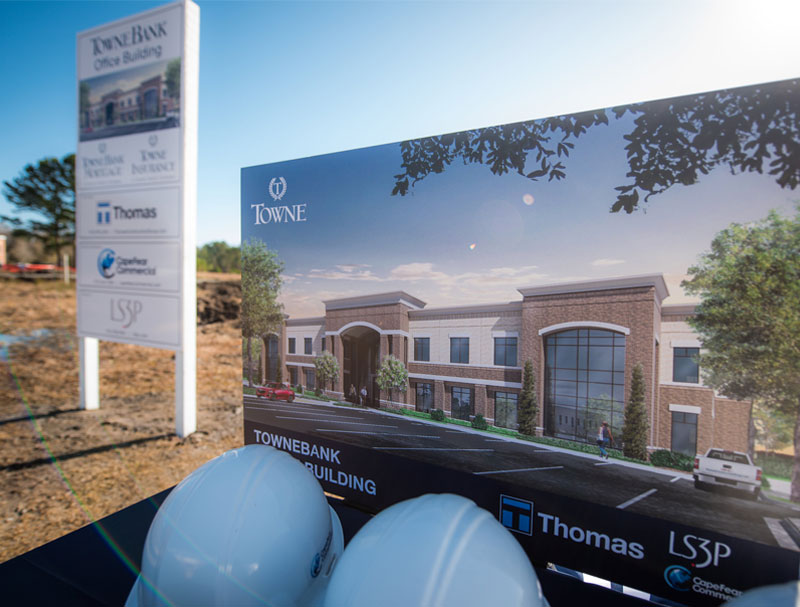 New office and retail space on the way to Military Cutoff Road this year includes the TowneBank Building and the anticipated grocery store-anchored retail center, Renaissance Market.
Crews broke ground this month on the TowneBank Building, so named because its occupants include subsidiaries of publicly traded bank TowneBank. TowneBank Mortgage and Towne Insurance are the anchor tenants for the Cape Fear Commercial project, a 31,250-square-foot office building previously referred to as Renaissance II at 6925 Fresco Drive. Thomas Construction Group, the project's general contractor, will occupy the rest of the building, about 15,000 square feet on the second floor.
Cape Fear Commercial is marketing another fully permitted office building in Renaissance Park, a 20,500-square-foot, LS3P-designed building that will be located next to the TowneBank Building at 1010 Ashes Drive.
Brian Eckel, co-founder of Wilmington- based Cape Fear Commercial, said he believes the office space outlook for this year is a positive one, though he's also cautious with his optimism because of past experiences.
"Wilmington's office market is currently on a great trajectory, but due to the size of our market it is still a fragile office market. Sudden changes with some key employers can make a big impact as demonstrated with nCino's explosive growth displacing tenants such as TowneBank and Polyquest," Eckel said, referring to the fact that nCino has leased the entire Mayfaire-area building where Towne- Bank is currently located. "We saw the opposite effect (in the same building) in March of 2011 when Wells Fargo Mortgage put 90,000 square feet back on the market. Large blocks of sublease space can have a devastating impact to office rents as it's very difficult to compete as a landlord with tenants that have a declining asset and can offer rents well below 'market.' So while the office market is very strong, we make sure we don't have short memories and develop new product with some caution."
Eckel said with developer Steve Anderson's project The Offices at Mayfaire heading toward completion and construction beginning on the TowneBank Building, "land along Military Cutoff is getting scarce."
Announced earlier this month, a health food grocery store and two other tenants are coming to Renaissance Market (formerly called Renaissance North), a retail center that will be located on land at the northeast corner of Military Cutoff and Sir Tyler Drive. New to Wilmington, the health food grocery store Earth Fare has signed a lease to anchor Renaissance Market, a retail center under development by Harbour Retail Partners and Trask Land Co.
West Marine, which offers boating accessories and parts, boating-related apparel and fishing supplies, has also signed a lease to relocate its storefront from Lumina Commons to the new center. And a restaurant, Blaze Pizza, is another of the first tenants to be announced for Renaissance Market.
As Harbour Retail Partners and Trask Land progress on the retail center on Military Cutoff Road, Cape Fear Commercial is completing plans to submit to the city of Wilmington for another 182,000 square feet of office and medical office at Autumn Hall, the mixed-use community on Eastwood Road.
"The office component totaling 182,000 square feet will be consist of five office buildings with direct visibility on Eastwood Road. Our project is zoned, with water, sewer and stormwater already completed so a lot of the heavy lifting is done," Eckel said. "We are on schedule to submit our plans to TRC in late March when we kick off the off-site improvements to Eastwood Road, which will consist of extending the median from Rogersville Road to the installation of a major signalized intersection at Autumn Hall Drive directly across the street from St. Mark [Catholic Church]."
Also referring to Anderson's Bradley Creek Station office plans on Oleander Drive, Eckel said, "I believe you will see Autumn Hall and Steve Anderson's Oleander project benefit from the success of Military Cutoff."
For the TowneBank subsidiaries, the new Military Cutoff office space represents an expansion in the Wilmington market, where they first established their presence about four years ago, said Rick Goldbach, market director of the Carolinas and executive vice president of Towne- Bank Mortgage.
The location of the new building had a lot of benefits for the Towne- Bank companies, including proximity to existing offices and the chance for brand new space.
"We certainly looked at other lease spaces, but building a building gives us the opportunity to develop something that is unique," Goldbach said. "And that goes back to taking care of our people … our core philosophy is it's about our people, first; brand, second; and revenues, third."
The subsidiaries have about 55 employees now, and that number is expected to rise.
"With the growth that Wilmington is going through right now, the opportunity for us is huge," Goldbach said.
Workers in both the TowneBank Building and the 1010 Ashes Drive office will likely provide even more customers for Renaissance Market, and the Ashes Drive project will provide additional connectivity between the employees working there and nearby shopping.
"Renaissance II will complete the connection of Ashes Drive from Sir Tyler to The Forum, which will give 1010 Ashes drive great accessibility to multiple stop lights," Eckel said. "Directly beside the SpringHill [Suites by] Marriott and dozens of restaurants within walking distance 1010 Ashes Drive will be a great option for corporate users that are looking for a class-A building in the heart of the Military Cutoff corridor."
View this story by Cece Nunn on the Greater Wilmington Business Journal's website.