In $49M Deal, Firm Buys Rental Townhome Community At Echo Farms
Aug 4, 2021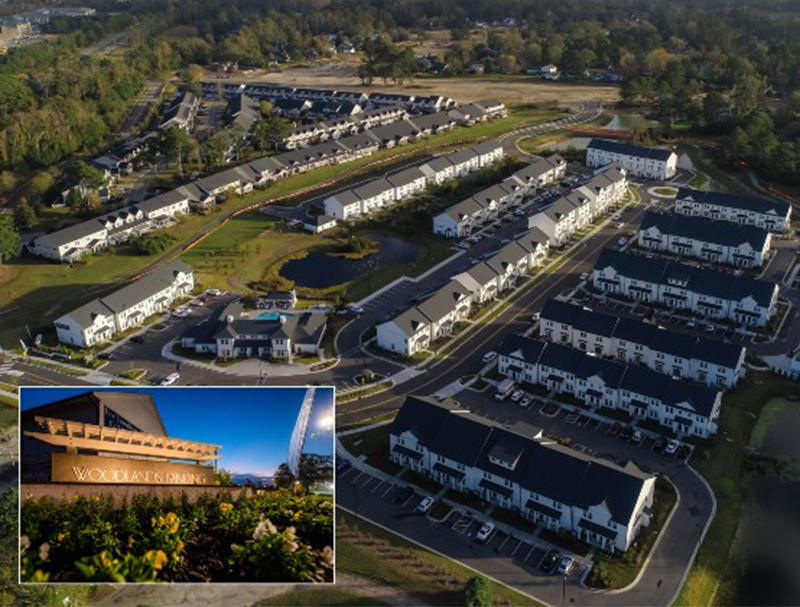 Story by: Cece Nunn, posted on WilmingtonBiz.com
A rental community off Carolina Beach Road in Wilmington changed hands recently in a nearly $49 million deal.
Hawthorne Residential Partners of Greensboro bought Woodlands Landing at Echo Farms, a 176-unit upscale townhome neighborhood, at the end of July.
Wilmington-based Cape Fear Commercial partnered with Cushman & Wakefield on the sale, said Brian Eckel, partner with CFC. The exact sale price was $48.85 million.
Woodlands Landing, completed in April 2020, was developed by Cape Fear Commercial's development team, GHK Cape Fear.
The Woodlands Landing website stated Wednesday that there are waiting lists for the two- and three-bedroom units, and rents for the one-bedroom units start at $1,320.
The team for Cushman & Wakefield, a commercial real estate services firm headquartered in Chicago, included Jordan McCarley, Tai Cohen and Watson Bryant of the company's Raleigh-Durham office.
In early July, Cushman & Wakfield announced that it had arranged the sale of two Wilmington apartment communities that had belonged to Hawthorne Residential Partners.
In other multifamily news within Echo Farms, GHK Cape Fear is developing another 206 apartment homes for a community called Riverwood.
Eckel said the units "will be a mixture of townhomes and garden-style apartments for rent, and Riverwood is expected to be complete by the first quarter of 2022."
The Riverwood site is off Independence Boulevard within a mile of The Crossroads at Independence, a shopping center under construction that will be anchored by a massive Harris Teeter grocery store.
"We believe the COVID-induced flexibility [in where people can live] has been very good to Wilmington," Eckel said. "We continue to see strong demand and are looking forward to delivering Riverwood and fulfilling a housing need."
View the original story on the Greater Wilmington Business Journal's website