Autumn Hall's Next Phase Emerges
Mar 5, 2021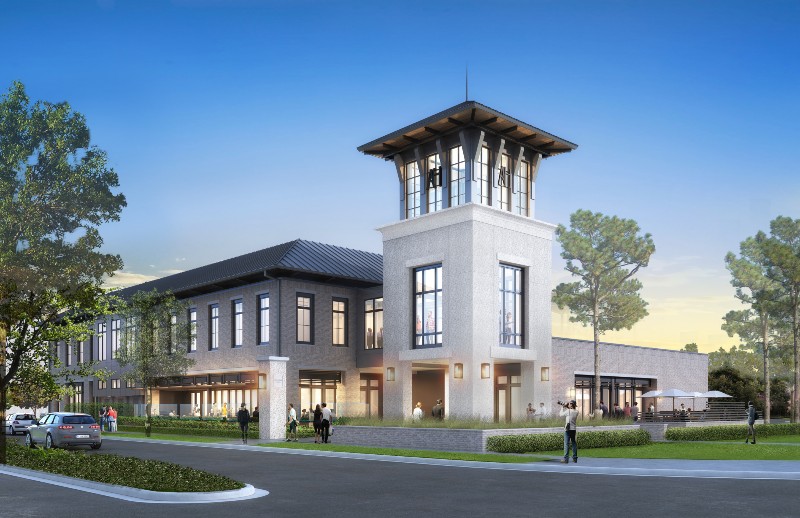 Story By: Cece Nunn, posted on WilmingtonBiz.com
Autumn Hall has been growing into its next phase, with construction underway on one of two buildings in the works that will hold commercial space.
The master planned community sits on more than 230 acres off Eastwood Road and already includes houses, apartments, office users and more.
Under construction these days is the first building in the latest phase of the community's expansion. At the corner of Autumn Hall Drive and Eastwood Road, the building is nearly 20,000 square feet, with about 10,000 square feet of class A office space and nearly 10,000 square feet of restaurant and retail options.
The retail offering will be anchored by a 2,264-square-foot Starbucks coffee shop with a drive-thru and a 5,500-square-foot, upscale restaurant to be owned and operated by well-known local restaurateur Ash Aziz, said Mike Brown, of Wilmington-based commercial real estate firm Cape Fear Commercial (CFC). CFC is the brokerage in charge of the latest Autumn Hall phase.
The restaurant is expected to be called Origin Food and Drink, Aziz said.
"Ash Aziz, who is widely recognized as one of the best operators in the local restaurant community, plans to bring forward a restaurant concept that is going to be very exciting," Brown said. "We could not be more pleased that Ash has put his trust in the vision of Autumn Hall."
Aziz said Origin "will serve the best regional ingredients, fresh local fish, farmers market produce, a creative seasonal menu and wines from around the world."
He said while it is planned to be upscale, it won't be intimidating, and the atmosphere will be "coastal elegant."
"The space features open-air indoor and outdoor dining, seating 150 people," Aziz said. "It will be open seven days a week for lunch and dinner and brunch on the weekend."
Aziz owns Circa 1922 in downtown Wilmington and Pizzeria Il Forno at The Pointe at Barclay. He said he plans to open the new restaurant in February 2022.
"Autumn Hall is an ideal location for a neighborhood restaurant," he said.
Origin is expected to be a welcome addition to Autumn Hall's latest phase. The restaurant will likely employ between 50 and 60 people, Aziz said.
Previously, Aziz had planned to open a restaurant at River Place, a 13-story mixed-use development in downtown Wilmington, but announced in July last year that he would no longer be moving forward with what would have been called Bijou on the River.
Aziz said he feels the timing will be better for Origin to be open in about a year (Bijou was set to open in the middle of the COVID-19 pandemic) and the location is better for what he wants to do.
"I'm a lot more comfortable being on this side of town in Autumn Hall," said Aziz, who has had several restaurants in the area, including his first restaurant 23 years ago, Rialto in Wrightsville Beach.
For Origin, Aziz said, "I'm going to make sure it's a destination."
As for the rest of the Autumn Hall building currently under construction, Brown said Cape Fear Commercial will move from Renaissance Park off Military Cutoff Road to 8,167 square feet on the second floor.
He said, "We are presently in discussions with a second tenant to fill the remainder of that floor."
Cape Fear Commercial "has outgrown our space at Renaissance, and in advance of our move, we are going to begin marketing our space at Renaissance for lease. There is a lot of activity in Renaissance Park and it is a great office space and has been a great home for CFC for over a decade," Brown said. "It will make a great choice for the next tenant."
The first building in Autumn Hall's latest phase is 80% leased with about 2,000 square feet of retail still available on the ground floor, Brown said.
The building was designed by LS3P, an architecture, interiors and planning firm. Thomas Construction Group is the general contractor for the project.
"We have continued to place emphasis on honoring the theme of Cape Fear Heritage Architecture, which has made the existing residential phases along with past projects like Dungannon Village and Carolina Bay so unique and inviting to local residents," Brown said.
He said that following closely behind the first building, a second building in the next phase at Autumn Hall will be located on the opposite corner of Autumn Hall Drive and Eastwood Road. The building will contain 25,655 square feet of office space, and it has also been designed by LS3P with Thomas Construction Group again as the general contractor.
Brown said at the end of February, "Building 2 is fully designed and has received a positive reception from local tenants. We are presently working to finalize leases with several key tenants. This will be another exciting project and we look forward to sharing more details in upcoming weeks."
Brown said that Autumn Hall "has become a thriving community over the past decade with its own identity and unique sense of place. This is much to the credit of our residents and existing business owners who are the lifeblood of Autumn Hall.
"It has been really fun to watch and I look forward to seeing what is in store as this latest phase of construction is completed and comes online."
View the original story on the Greater Wilmington Business Journal's website.