Apartment Sales Dominated 2021
Jan 7, 2022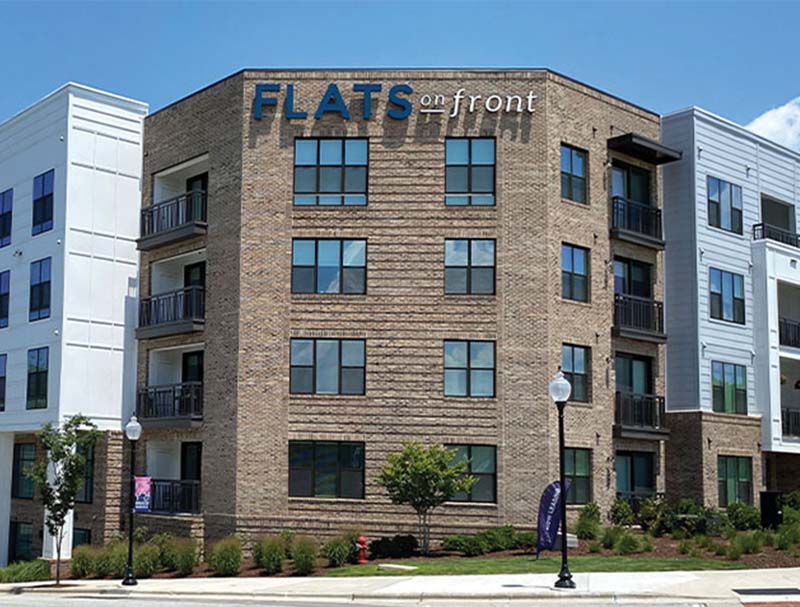 Story by: Cece Nunn, posted on WilmingtonBiz.com
Investors buying up Wilmington apartment communities drove the top real estate transactions of 2021 in New Hanover County.
"Coming out of the pandemic with more and more institutional capital interested in Wilmington, 2021 has proven to be a very robust year for our local investment sales market," said Paul Loukas, broker in charge at Wilmington-based real estate firm Cape Fear Commercial, at the end of December. "We've had owners looking to capitalize on this booming market and buyers willing to offer top dollar with aggressive terms in order to win deals."
The sale of luxury apartments in downtown Wilmington represented the highest-priced real estate transaction of all last year in New Hanover, according to property tax records and local brokers.
Brookfield Real Estate Income Trust Inc. (REIT) bought the 273-unit Flats on Front, 1045 N. Front St., for $97.5 million, which represents the highest price per apartment, a little over $357,000, ever scored in the area.
The next-highest transaction of 2021, the $79 million sale of Avalon Apartments off Market Street in Wilmington, took place in September. The buyer, Gastonia-based Southwood Realty, paid $76 million for 372 units and another $16 million for 84 apartments in Phase II of the complex.
Southwood officials said in a release that the company "plans to expand on an already-started value-add program, renovating original units with new stone countertops, wood-style vinyl flooring, LED lighting package, and more."
The previous per-unit record was also set this year when a Baltimore- based firm in August bought the 264-unit Reserve at Mayfaire apartments for $76 million, or $287,878 per apartment.
The seller of Flats on Front, a joint venture between DPJ Residential and Chaucer Creek Capital, was also the developer of the Flats, part of an apartment boom along the northern riverfront in downtown Wilmington.
"Since we offered to buy the vacant piece of land back in early 2017, there have been a lot of firms and personnel involved in designing, building and managing this apartment community," said Porter Jones of DPJ Residential, the company that also developed the Mayfaire Flats off Military Cutoff. "Although we can now reflect back on our success, there were many sleepless nights for me and others who were involved, whether it was due to unforeseen supply chain challenges or trying to lease up a new community during a global pandemic.
"Lucky for us, we had a great team to work through these issues and be able to execute on our business plan."
The team included Clancy & Theys as general contractor, Cline Design Associates and Hostetler Architecture as the architects and Bell Partners as the property management firm.
Vice Chairmen John Heimburger, Sean Wood and Dean Smith, Senior Managing Director Alex Okulski and Managing Directors Jason Kon and John Munroe of Charlotte- based commercial real estate company Newmark brokered the sale.
Jones is also developing 17 Social, an apartment complex on South 17th Street that he said is 70% leased.
He said, "We hope to be involved in many future developments in and around downtown as well as other parts of Wilmington."
The Flats on Front complex is just one example of the major investments developers have made in recent years in the same area, including Sawmill Point at 1015 Nutt St. and Pier 33 Apartments at 901 Nutt St.
"We always felt the North Waterfront area was lacking connectivity to downtown, but now with the new Riverfront Park amphitheater, Live Oak Bank Pavilion, this area feels so much more active," Jones said. "As more development occurs, we believe the North Waterfront neighborhood will be one of the most unique, vibrant and walkable areas in the entire state."
As for the new owners of Flats on Front, the Brookfield name is wellknown in Wilmington. Brookfield REIT is managed by a subsidiary of Brookfield Asset Management (NYSE: BAM), a company headquartered in Toronto, Canada.
Another Brookfield subsidiary owns the nearly 1 million-squarefoot Independence Mall at 3500 Oleander Drive, and in May this year, Brookfield Residential announced its acquisition of Riverlights development company Newland.
Middleburg Communities of Vienna, Virginia, a real estate investment, development and management company, sold Mosby at Riverlights, 4027 Watercraft Ave., for nearly $64 million to RAS Realty Partners.
As part of a new branding initiative, Boca Raton-based RAS will rename the 250-unit, class A apartment complex "Oasis at Riverlights."
RAS Managing Partners Michael Heller and Adam Heller said in a statement, "As long-term owners focused on adding value to our surrounding areas, RAS is excited to [add] Mosby at Riverlights to our expanding portfolio of class A properties. We anticipate a tremendous amount of growth in the Wilmington submarket, and are looking forward to developing a strong presence in the area for years to come."
A rental community off Carolina Beach Road in Wilmington changed hands in 2021 in a nearly $49 million deal.
Hawthorne Residential Partners of Greensboro bought Woodlands Landing at Echo Farms, a 176-unit upscale townhome neighborhood, at the end of July.
Wilmington-based Cape Fear Commercial partnered with Cushman & Wakefield on the sale, said Brian Eckel, partner with CFC. The exact sale price was $48.85 million.
Woodlands Landing, completed in April 2020, was developed by Cape Fear Commercial's development team, GHK Cape Fear.
At the time of the sale, there were waiting lists for the two- and three-bedroom units, and rents for the one-bedroom units start at $1,320.
In early July, Cushman & Wakfield announced that it had arranged the sale of two Wilmington apartment communities that had belonged to Hawthorne Residential Partners.
The buyer, Priderock Capital Partners, a private multifamily asset manager, paid nearly $30 million for the properties.
Hawthorne Centre North, which has 158 units at 5208-02 Ringo Drive, was built in 1996 and sold for $19.8 million, according to a deed. Built in 1990, Hawthorne Lofts South, 352 Red Wing Lane, has 78 units and sold for $9.9 million, a deed showed.
View the original post on the Greater Wilmington Business Journal's Website