A First Look At The Next Phase Of Autumn Hall
Feb 14, 2019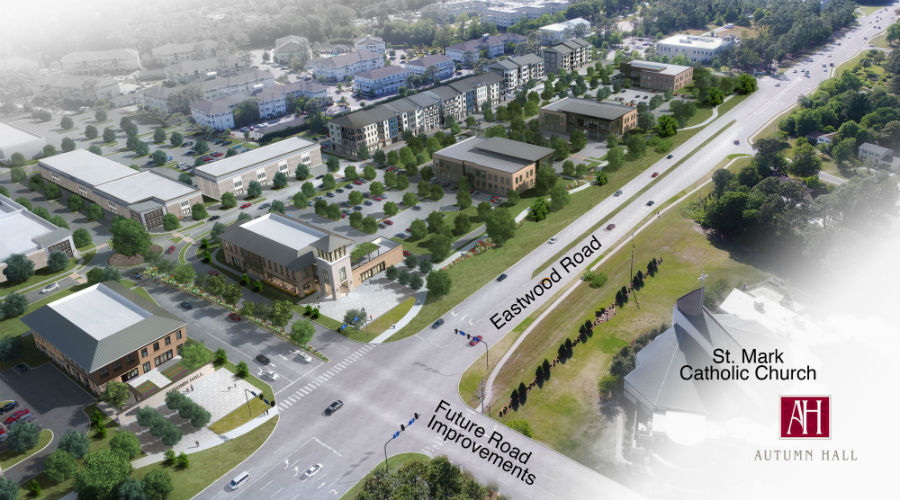 Story by: Cece Nunn, posted on  WilmingtonBiz.com
The next phase of Autumn Hall is expected to include high-end retail, restaurants, offices and apartments, and construction is expected to begin as early as summer 2019, developers said Thursday.
Mike Brown of Autumn Hall and Wilmington-based commercial real estate firm Cape Fear Commercial shared renderings that reveal what that phase is expected to look like, designed by LS3P Associates. The buildings feature Autumn Hall's signature Cape Fear Heritage architecture with a coastal modern theme, Brown said.
Construction of the 235-acre development Autumn Hall, which has long been planned as a mixed-use project, began in 2007.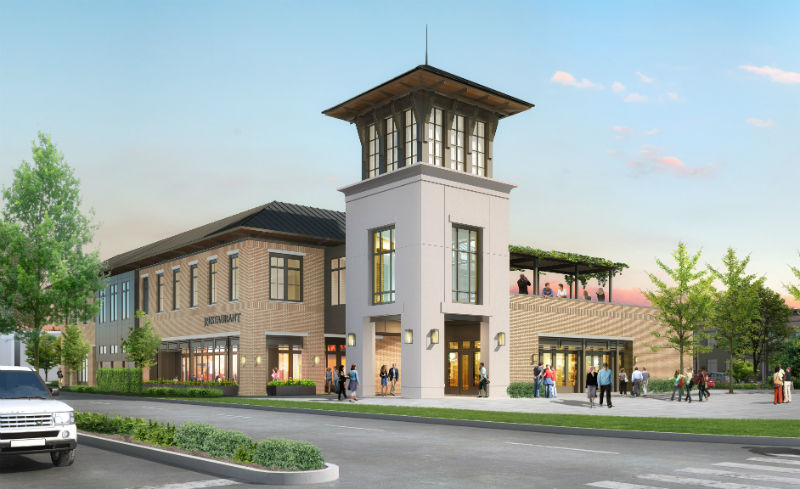 "We've been very patient and very deliberate about trying to proceed in a manner that makes sense. And we want to preserve that quality, we want to preserve the vision. We want everything we do to be high-end and raise the bar on quality here for a real high-end mixed-use experience," Brown said.
Preliminary plans for Autumn Hall's latest phase show a 13-acre phase of mixed-use phase to be located between Carolina Bay Drive and Autumn Hall Drive, fronting on Eastwood Road. The project includes seven buildings with 28,000 square feet of retail/restaurant space, 90,000 square feet of offices, and 180,000 square feet of residential space.
Brown said the plans include 140 apartments, many above potential retail and restaurants with opportunities for outdoor dining and enjoying streetside greenspace.
He said in a news release that the new phase will emphasize "signature outdoor experiences."
"The design incorporates an event lawn anchored by a signature restaurant space. This park will be active both day and night and offer a location for outdoor dining, recreation, and special events," according to the release. "The retail, residential, and offices will all front on the park, which will in turn connect directly into the city of Wilmington Cross City Trail System."
The rendering above shows an office building at Autumn Hall Drive and Eastwood Road that would have two restaurants on the bottom floor and the potential for a rooftop bar on the right.
Another focus will be on the demands consumers have for experiences that cater to their active lifestyles, the release stated.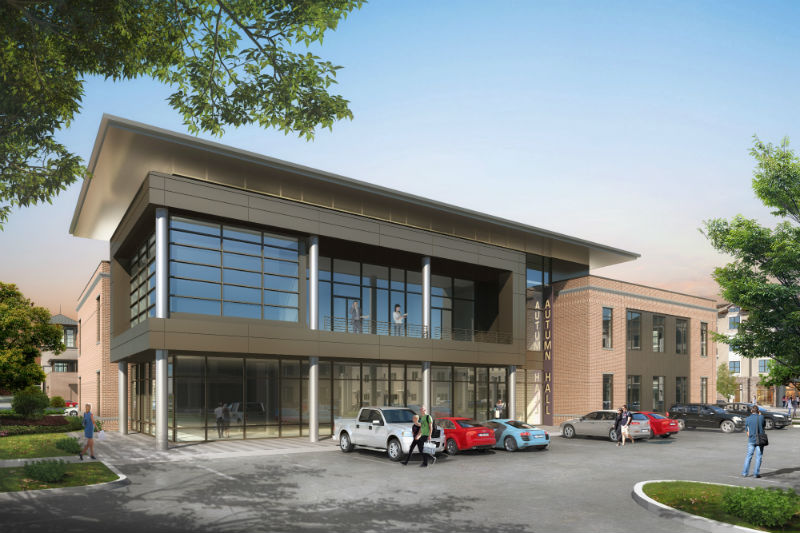 "Our tenant mix will directly target the active lifestyle user. High-end destination retailers, active lifestyle focus, fitness-oriented tenants, clean and authentic dining opportunities, modern office spaces [shown above] and integration into already existing Autumn Hall amenities (51 Acres of internal park spaces, over a mile of internal Cross City Trail System, an 8-acre lake, and award winning landscapes and tree preservation)."
Autumn Hall already has 174 lots and homes, 286 apartments and 65,000 square feet of existing office and retail space that is home to Drift Coffee, Harrington Homes, Coldwell Banker Sea Coast Advantage Realty, Glen Meade Center for Women's Health and the Nunnelee Pediatric Clinic. It is also home to Carolina Bay, a continuing care retirement community owned and operated by Liberty Healthcare.
Already underway are Eastwood Road improvements valued at $3.6 million. Road work includes median improvements, the addition of a full service traffic light at Autumn Hall Drive and the realignment of Rogersville Road, expected to be complete by late spring this year, according to the release.
Autumn Hall will have five access points along Eastwood Road, inclusive of three signalized intersections, the release stated, all to be in place by summer 2019.
View the original story on the Greater Wilmington Business Journal's website.